By Alan Kennon on Nov 05, 2010 with Comments 0
---
Filing for Chapter 17 bankruptcy means you still have to make payments to your creditors according to your income and the new terms negotiated for you. During your Chapter 13 bankruptcy there exist limitations on what you can do financially. The code provides sanctions stating you cannot contract new debts such as a car loan or mortgage without the permission of your trustee. If you decide to buy a car during a Chapter 13 bankruptcy, you will need to do the following.
Contact you trustee and ask for permission to buy a car. The trustee has the responsibility of making sure you keep your finances organized and continue to pay your creditors. Courts usually grant these kinds of requests, provided you don't want to purchase a very expensive car. Chapter 13 means looking at your income and your trustee needing to determine whether or not to allow you to spend a lot of money on a car while you struggle to pay your debts.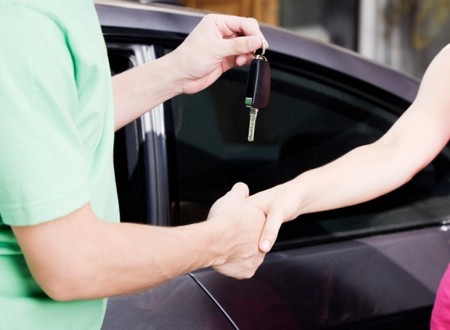 If the trustee does not want to approve your request and you still want to proceed with buying a car, you or lawyer can file a motion with the court. If you have a lawyer assisting you with your Chapter 13 bankruptcy, he will know what to do to file a motion. If you're handling your case on your own, go to the clerk's office at the bankruptcy court handling your case and ask about the procedure for filing a motion. Although the clerk cannot give you legal advice, he can provide the documents necessary for you to file said motion.
After filing the motion you will have the chance to address the judge and explain why you want to buy a car. For example, if you need the car for work you should explain its necessity for you to get a steady income and therefore keep paying your creditors. The judge has the final say on your request to buy a car during Chapter 13 bankruptcy.
If you get permission from your trustee and/or the judge, proceed to look for a car dealer who works with creditors who approve car loans to people undergoing bankruptcy. Although difficult to find, you can do so with a little work on your part to get the car you want. You may consider consulting a FIAT Car Dealer in your area.
Before buying the new car, make sure you can afford the payments. Your financial situation sits in a vulnerable position and you need to boost your credit score—not lower it even more. Buy a car only if you really need it while making sure you choose an inexpensive solution. Also consider fixing your old car before getting a new one. A loan to make repairs might prove more convenient, less costly and easier to pay.
Filed Under: General How To's
About the Author: Alan Kennon lives a very happy life with two kids and a lovely wife. He likes to share his life time experiences with others about how they can improve their lifestyle and personality.
Comments (0)