By Leona Kesler on Nov 05, 2010 with Comments 0
---
Have you been longing to taste the juicy flavoured barbeque flat iron steaks you used to have at your favorite barbeque restaurant? For sure you want to eat it right now. Definitely, barbeque flat iron steak is such a tasty dish and sound fancy. But hey, you too can cook your very own version at home.
What are you waiting for? Get ready to cook this wonderful and simply amazing beefy flavoured meat that is tender and juicy.
WHAT YOU'LL NEED
1 teaspoon of salt
3 cloves of garlic (minced)
3 tablespoon of olive oil
1 tablespoon of balsamic vinegar
1 teaspoon of black pepper (fresh and cracked)
1 teaspoon of oregano (dried and crushed)
2 tablespoons of onion (minced)
2 teaspoons of chilli powder
2 pieces of flat iron steaks (one pound each)
meat thermometer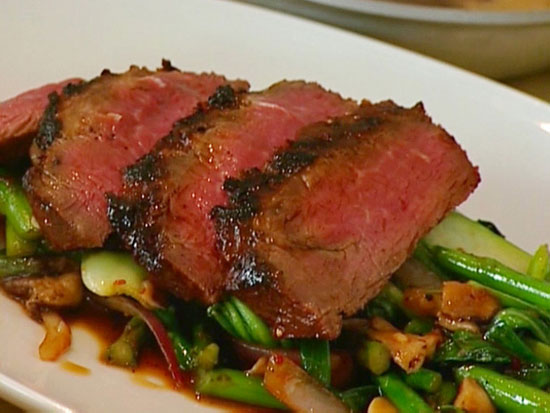 INSTRUCTIONS
Season the two steaks with salt and place it on top of a baking dish.
Next is combine the following: black pepper, dried oregano, salt, olive oil, chilli powder, balsamic vinegar, minced onion, and minced cloves of garlic.
Pour the mixture on top of the two steaks. Then, cover the baking dish with the use of a plastic wrap. Let it sit in room temperature for 10 minutes.
Preheat the barbeque grill and set it on a medium-high heat.
Get the marinated steaks and put them on top of the racks.
Reserve a certain amount of marinade. Cook the steaks for about 10-15 minutes or so.
Pour unto the steaks the remaining marinade while the cooking process is ongoing.
Get hold of a meat thermometer and stick it into each of the steak to check the internal temperature of the meat. When it reached the preferred temperature whether it is rare, medium-rare or well-done, then it is time to remove the two steaks and place them on a platter.
You can serve the steaks as they are or add a side dish unto the platter. You can choose fresh vegetables that are blanched or top the meat with minced parsley. Or you can garnish the meat with nicely carved onions or the like.
There you have it your very own version of barbeque flat iron steaks! For sure you will really love eating your own cooking.
Filed Under: Food & Cooking
About the Author: Leona Kesler is a head-chef at a very popular food restaurant in New York. Also she is a blogger who shares her experiences, tips, and other informative details about food and cooking. Her recipes are featured on many magazines.
Comments (0)