By Vanessa Page on Apr 20, 2010 with Comments 0
---
All employees should be appraised at regular intervals. A new recruit should be formally assessed for the first time after three months, perhaps when his trial period is coming to a close and you have to decide whether to issue a written statement of the main terms of employment. If he is subsequently employed on a permanent basis he would normally then be appraised every six or twelve months, according to circumstances.
Formally assessing staff at regular intervals, in addition to ongoing informal monitoring, offers many benefits. It allows you to identify and encourage an employee's strengths while perhaps recognizing his potential for promotion. It further enables you to illuminate and then work towards rectifying his weaknesses, possibly by providing more training or guidance. Both employer and employee can raise and discuss any issues that may be of mutual concern, such as griev­ance or disciplinary matters. Knowing he is going to be appraised often will also motivate the employee to work hard and do well.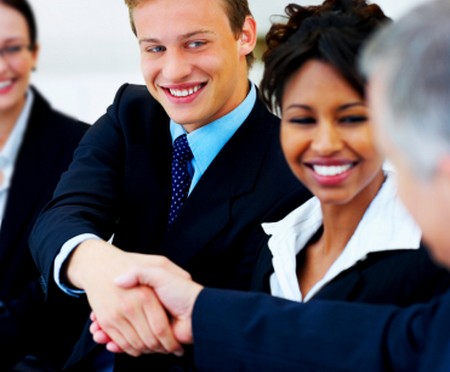 Staff assessment will usually be carried out during an interview with you, the employee and his immediate superior, if appropriate, all talking about the employee's work performance and progress to date. Agree with the employee beforehand when you'll meet. One or two weeks' notice should be given, thus allowing him enough time to prepare himself. Let him and his direct superior have copies of the assessment form you will be using for appraisal purposes. He'll then know what to expect.
Consider how long the interview should last. Perhaps 30 to 45 minutes need to be set aside if a full assessment is to be carried out. Think about the location of the interview as well. You'll all want to concentrate fully without any distractions. Make certain that you have a quiet and private room available so you can do this.
Prepare for the interview in a systematic way. Draw up a staff assessment form, preferably based on the appropriate job description and employee specification, against which the employee can be appraised. Like application forms, you'll probably need to have three separate ones for youngsters, other employees and managers respec­tively.
There are several ways of setting out an assessment form; most companies will use an amalgamation of all of them. Sometimes, the assessor simply has to write out an overall assessment of the employee. It is entirely up to him to decide what he includes or excludes from the form. He comments on those areas he personally considers to be important. Clearly, such an approach has significant drawbacks, not least that it is highly subjective and open to bias.
More often, some guidance will be given, and the assessor will be asked to comment specifically on a range of key criteria of relevance to successful job performance. Although headings will naturally vary according to the type and level of the job concerned, he might typic­ally have to think about the employee's appearance, timekeeping, enthusiasm, reliability, industry and so forth.
As well as providing a brief comment, the assessor may also be expected to grade the employee in each of the various areas. ABCDE or 12345 are most commonly used with A (or 1) perhaps being defined as 'Outstanding work performance and effort', B (or 2) as 'Very satisfactory work performance and effort' and so on. Grading helps to produce a more systematic and thorough analysis of the employee, pinpointing especially good and bad points that should be worked on.
An increasingly popular method of assessment is to set particular targets, perhaps of work performance or output, which the employee must strive to achieve. These would be mutually agreed by both employer and employee on the induction course or at a previous appraisal interview. The review then takes place in comparison with each of these targets.
Whatever your personal choice, the assessment form should also have spaces in which areas for improvement, corresponding actions that need to be taken and employee's observations can be recorded. Always leave plenty of room for each of them.
Filed Under: Work & Careers
About the Author: Vanessa Page works a career counselor in one of the leading firms in Los Angeles. She is also a blogger and gives tips on how people can tackle their work and career issues. She has 8 years of experience in this field.
Comments (0)