By Jason Prickett on Jan 02, 2010 with Comments 0
---
Hardboard is a fibre building board made by taking timber (less the bark and knots), pulping it and then hot-pressing it into thin sheets. Hardboard is not very stiff and is generally used as a covering for framework. There are many different types of hardboard – some are produced by variations in the manufacturing pro­cess or materials, others are covered with a special finish.
Standard
One surface is smooth, the other has a rough mesh texture. Available in thicknesses from 1.2 to 12mm, most common 3.2mm, 4.8mm and 6.4mm. Board sizes range from 1220 x 610mm to 3660 x1220mm. Can be used for floor covering, door panels, fitted furniture, toys and drawer bases.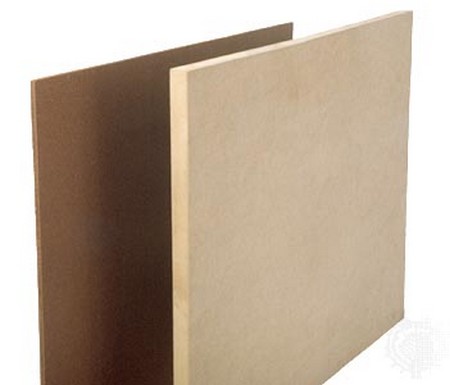 Tempered
A water-resistant board made by impregnating it with oil. Available in thicknesses from 3 to 9.5mm, most com­mon 3.2 and 4.8mm. Board sizes range from 1220 x610mm to 3660 x 1220mm. Can be used instead of standard hard-board where water-resistant qualities are an advantage. Particularly suitable for floor covering, bench tops, and general outdoor use.
Mediumboard
Less dense than hardboard and divided into two main types – HM (high density) and LM (low density). Available with matt, silky or hard shiny surfaces. Usually available in 6.5, 9 and 12mm thicknesses. Board sizes range from 1220 x610mm to 3660 x 1220mm. Can be used for lining walls, ceilings and partitions. Some grades are suitable for exterior use. Type HM is often called panclboard; type LM is soft enough to be used as a notice-board.
Duo-faced
Both surfaces of the hard-board have a fine scaled smooth surface. Usually available in standard and tempered types with thicknesses from 3.2mm to 12.7mm. Usual board size 2745 x 1220mm. Can be used for making furniture and toys.
Perforated 'pegboard'
Pegboard is single-faced hardboard; other perforated boards are usually duo-faccd. Perforated board is punched with holes or slots at regular intervals. It can be obtained with a painted surface. Usually available in 3.2, 4.8 and 6.4mm thicknesses. Board sizes from 910 x610mm to 2440 x 1220mm. It is usually used in conjunction with special clips for hanging tools or kitchen equipment.
Enamel finish
Plain, embossed, tiled or painted surfaces are available in various colours with a matt or gloss finish. The boards are usually 3.2mm thick and either 1830 x1220mm or 2440 x 1220mm. Can be used for panelling baths, walls, ceilings and as a splashback. Moulded finish These boards usually have a raised pattern on one surface, are generally 3.2mm thick and often have to be specially ordered.
Plastic finish
These boards are faced with PVC or mclamine. PVC-finishcd boards may be plain, patterned or wood grained. Unlike plywood covered by plastic laminate, these boards will not stand harsh treatment. Usually 3.2mm thick and cither 1830 x1220mm or 2440 x 1220mm. Can be used for sliding doors and wall or bath panels.
Working with hardboard
Bending
Hardboard can be bent by pin­ning one edge of the board and bending the board bit by bit, pinning it as you go. The bend must be supported.
If you want to make a bend with a small radius, soak the board in warm water for two or three hours, then stack it under cover (to prevent evaporation) for a further 24 hours. The boards can then be fixed to supports, or bent and temporarily secured around a former and allowed to dry this will give you an unsupported shape. Make the radius of the former smaller than the eventual radius you want from the hardboard to allow for any spring back in the board.
Cutting
Hardboard can be cut easily with a tenon saw. Cut it from the smooth side and support the ends to prevent the board breaking or tearing. Take care when saw­ing if the saw jumps out of the cut it will permanently scratch the surface. If the hardboard has a painted or laminated surface, this should be scored with a marking knife before the board is cut on the waste side.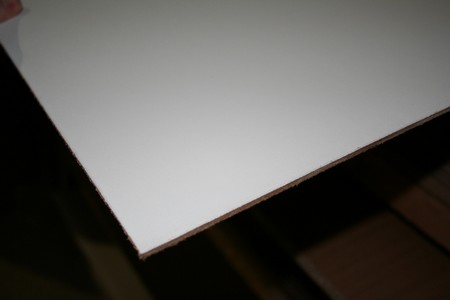 Rough cut edges of hardboard can be smoothed with woodworking tools – a plane or a trimming tool – followed by rubbing down with abrasive paper.
Fixing
In general, hardboard should be stored flat and care should be taken to avoid damaging its edges and corners. Hardboard can be fixed in a framework by glue, nails, pins or screws. Before fix­ing, manufacturers recommend a number of special treatments to reduce the likeli­hood of it buckling through a change in moisture content after fixing. In most cases this simply means standing the boards separately on edge in the room where they are to be used – 48 hours for medium board, 72 hours for standard and 5 days for tempered hardboard. Air must be allowed to circulate freely around the boards. But if you want to use standard or tempered hardboard in a new building (a home extension, say), outside or in damp rooms such as bathrooms or kitchens, it should be conditioned by washing the mesh surface of each 2440 x1220mm sheet with a litre of water. The boards should then be placed back to back and laid fiat for 48 hours (standard boards) or 72 hours (tempered boards). The boards should be fixed immediately after conditioning.
Apart from tempered boards, all hard-boards can be glued on cither side. If you want to glue the smooth side roughen it first with abrasive paper.
If you use ordinary nails, pins or screws to fix hardboard they may rust unless they are painted. Hardboard pins, which are specially designed with a coppered finish and diamond-shaped heads, fix hardboard neatly and are rustproof.
Finishing
Hardboard is usually finished by painting or wallpapering it. Indoors, apply a coat of diluted emulsion paint first; outdoors, use an aluminium-based wood primer.
Filed Under: Home & Maintenance
About the Author: Jason Prickett loves to write about home maintenance and stuff you can do yourself instead of hiring any professional. His step by step guides will assist you in completing your home maintenance tasks.
Comments (0)