By Jason Prickett on Jan 02, 2010 with Comments 0
---
Chipboard is made by gluing together small resin-coated particles of timber under heat and pressure. The particles usually lie parallel to the surface of the board. It is one of the boards known to the trade as particle boards.
There are three main grades of plain chipboard available. Standard grade is used for making furniture and for general construction work. It comes with the faces sanded smooth ready for priming and then painting. Flooring-grade chip­board has a smooth finish and is designed specifically for modern floors in dry situa­tions. Both square-edged and tongued-and-grooved sheets are available. Smaller sheets are available for covering loft floors (they fit through the hatch more easily). Moisture-resistant chipboard is designed for use where the board might get damp, but not outdoors. There is also a moisture-resistant flooring grade for use in kitchens and bathrooms.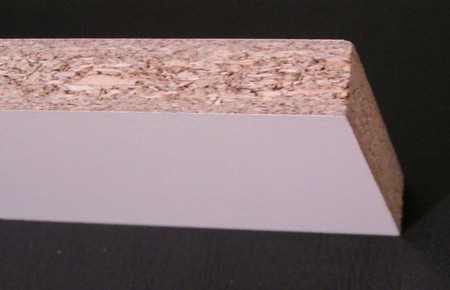 Most chipboard used in the home these days, however, is likely to be faced with one of two materials – melamine or wood veneer. Both of these are used equally for shelving and furniture making (kitchen units, for example).
Wood veneer chipboard comes in teak, mahogany and pine; melamine-faced board comes in white, magnolia and 'wood-effect'. Other colours and designs are available. Faced chipboard generally comes in 1.8m and 2.4m lengths and in widths from 150mm to 1200mm. Larger sizes (including sheets) are available; the standard thickness is 15mm.
Chipboard faced with plastic laminate is also used widely for kitchen worktops, in lengths up to 3m. These can have square or rounded ('postformed') edges.
Working with chipboard
Cutting Chipboard can be cut with the usual woodworking tools. However, its high resin (glue) content means that it blunts tools more rapidly than solid tim­ber and other man-made boards. Faced boards should always be scored on both surfaces with a marking knife before they are sawn to reduce the risk of chipping the surface facing. Special circular saw blades are available for melamine-faced chipboard.
Fixing Pins, nails and screws can be fixed through chipboard but, as a rule, they should not be driven into the edge. If you need to attach something to the edge of chipboard use the special fixings available or alternatively attach a solid wood lip­ping to the board – see drawings below – and screw things, such as hinges, into this. Chipboard screws, with twin threads, are quicker and easier to use than normal screws and provide more grip. Chipboard takes glue well on its faces and fairly well on its edges.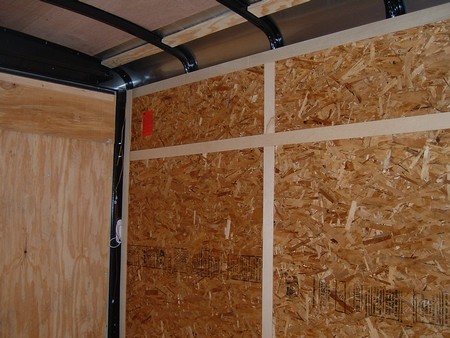 Plain chipboard can be joined by gluing battens along the edges at the corners or by using dowels, but when making kitchen cupboards (for example) from melamine-faced chipboard the best method of joining panels together is to use one of the wide range of special fit­tings available.
Finishing Plain standard chipboard can be finished with paint or varnish. Wood veneered chipboard is usually varnished or polished. Before painting standard chipboard, fill any cut edges and sand them smooth. A normal wood primer should be used before undercoats or gloss paints. Sealed chipboard does not need priming. Standard chipboard can be treated with a colored or wood stain and then polyurethane varnish.
Chipboard can be edged with a strip of softwood or hardwood – known as lipping glued or pinned to the edge. Use lipping which is slightly wider than the thickness of the board and plane it down to size after fixing.
Iron-on edging strips are available for both melamine-faced and wood-veneered chipboard. The boards already have finishes on the two long edges, but you will need edging strip wherever the board has been cut. Edging strip comes in rolls in a width to match approximately the thickness of the faced chipboard, though slight trimming may be necessary. Par­ticular care needs to be taken matching the edging for veneered chipboard as it can vary in grain, colour and surface finish. Where edging strip has been used near a source of heat, it has a tendency to come off after a while but can be re-glued with a contact adhesive. Laminate edging strips for worktops are glued on.
Filed Under: Home & Maintenance
About the Author: Jason Prickett loves to write about home maintenance and stuff you can do yourself instead of hiring any professional. His step by step guides will assist you in completing your home maintenance tasks.
Comments (0)