By Darlene Aronson on Nov 04, 2010 with Comments 0
---
People cannot use copyrighted work without authorization. The 1976 U.S. Copyright Act protects authors against use of their work without permission. The Internet can make it quite confusing to know which works carry copyrights and which you can use without asking permission. Tens of thousands of blogs and websites on the World Wide Web have all kinds of content. Whether you want to use content from the Web or traditional printed content, make sure you follow all copyright rules; failing to do so might result in a lawsuit. If you want to use written copyrighted material, you have to contact the author, discuss the terms and get written permission to do so.
Not all written material bears a copyright. And even if the material does have a copyright, under some circumstances you can use small portions of it without permission: for educational purposes, criticism or parody uses. You can also use published or unpublished material that falls under public domain without asking for permission. Go over the legislation regulating copyright material to know your rights and obligations.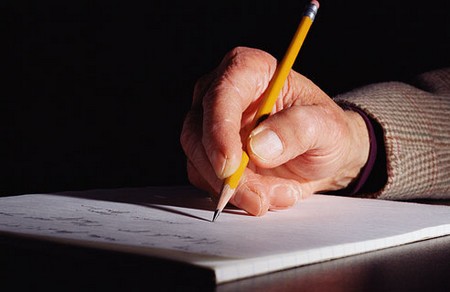 Some written materials fall under public domain, so you can use them freely. If the written work was published in the Unites States before 1923, it falls under public domain. Written work published between 1923 and 1963 might no longer have copyright restrictions as well. The United States Copyright Office has a database of the registered copyright materials. You can check the database on the office's official website (http://copyright.gov/).
If the written work you want to use bears a copyright or you find it in the database of the copyright office, contact the author to ask for permission. You can send an email, make a phone call or send a letter. State the purpose and the portion of the work you intend to use.  You might have to negotiate the terms with the author. The author might choose to ask for a fee for limited or unlimited usage of his written work. Make sure to clarify whether you will have to stop using the work after a period of time. After agreeing on the terms, the author has to send written consent. Only then can you start using the copyrighted material.
Even if you follow the legal steps and ask for copyright permission, the author might not necessarily grant your request. Authors have the right to deny your request, and you can't do much about it. Remember that going ahead and using the written work anyway can have legal consequences.
Getting permission to use a certain portion of someone's work doesn't mean you can use other portions of the work in the future. Every time you need copyrighted material different from the one you agreed upon with the author, you have to ask for new permission.
Filed Under: Education & Training
About the Author: Darlene Aronson holds a degree in English literature and is a college teacher in Texas, USA. She likes to help others by sharing her experiences in education and training field. She has written for many blogs as well as local magazines.
Comments (0)