By Leona Kesler on Nov 04, 2010 with Comments 0
---
Providing a variety of training options to improve staff menu knowledge lends your restaurant credibility. Whether you manage a fancy restaurant or simply a small coffee shop, having employees who possess knowledge of your menu proves a valuable key for good service. These workers represent the face of your business and the food you serve. If they can't follow through with proper service, then you might find yourself wasting valuable time and effort. Take time to train your staff about the menu and its preparation methods.
Create a portfolio or slideshow of photos for your menu. Organize each recipe in grouped designations such as appetizers, desserts, drinks, entrees, salads and soups Add in important information as well as a brief description before gathering your staff to go over the slideshow. Introduce the menu and allow staff members to share questions and concerns.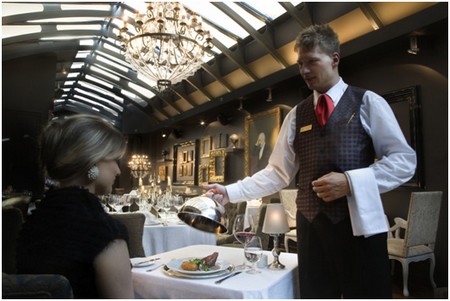 Host a game. Make flashcards with a picture of a dish on one side and its name and ingredients on the other. Let the staff participate and practice going through them. Flashcards can train your staff to think fast and calmly.
Provide restaurant employees with the most current copy of your menu. Ask your staff to scan the menu to help them learn the names, prices and descriptions of all dishes and drinks your restaurant offers. Make sure they know what the restaurant serves and can answer any customer questions.
Allow your staff to taste your dishes. Doing so can help them grow more familiar with the flavor and look of each dish. They can also therefore provide customers with educated answers about the dishes beyond just memorizing their basic ingredients. Talk about the individual components and the dishes' unique taste that set them apart from similar offerings by competitors. Make sure they know what goes into each dish's preparation. Keep in mind some customers have allergies to certain ingredients, so you want to make sure your staff can provide customer with informed and correct information.
Devise scenarios in which staff members can play out and practice their knowledge of the menu. Act as a customer and have servers demonstrate knowledge of the menu. Ask questions most customers would ask regarding the preparation of dishes and whether they contain certain ingredients such as peanuts or shrimp. Tell them you don't like onions and see if they have another dish they would suggest instead. Such role playing activities will help your staff learn more quickly, as they will soon experience that same scenario. Discuss each of your employees' performances afterwards and offer both positive and negative feedback.
Devise a quiz or test for employees to improve their menu knowledge. Some restaurants even distribute copies of their menus for servers to memorize before hiring them. They expect someone to be somewhat familiar with the main dishes before starting their jobs.
Filed Under: General How To's
About the Author: Leona Kesler is a head-chef at a very popular food restaurant in New York. Also she is a blogger who shares her experiences, tips, and other informative details about food and cooking. Her recipes are featured on many magazines.
Comments (0)