By Jason Prickett on Oct 04, 2010 with Comments 0
---
If you are the do it yourself type of person, then installing electrical wiring is right up your alley. Before you start any electrical job, safety comes first. You'll need safety equipment and a voltage tester to help you complete your project. A voltage tester is a crucial tool to have on hand when you are undertaking electrical projects. This tester will let you know if electricity is currently working inside the home. Do some research to find out which kind of voltage tester is right for you. Read on for more information.
Procedure:
Necessary Items:
Tester
Safety Goggles
Electrical Gloves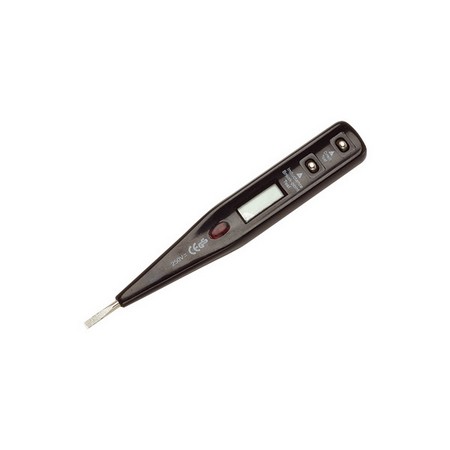 Instructions
Step 1
You need to know if the electricity is running inside the residence. Use a two pronged volt tester. Check via an outlet box that is not attached to anything. The red wire on the tester goes on the box screws at the side of any outlet.
Step 2
The voltage tester's black wire is put against the screw. If you are using an outlet that is hooked onto the wall then the red wire from the tester goes inside the outlet. The black wire on the outside screw of the plate. The voltage handle will illuminate if there is a current. If there isn't electricity running, the handle will not light up.
Step 3
Now, see if the receptacle has electricity or not. The plug tester you will use features three lights that will indicate if the receptacle has electricity flowing or not. If it doesn't, then chances are it isn't wired properly.
Step 4
Make sure the tester you are using is the correct size. Sizes differ according to the level of voltage it will measure and the capacity in which it is used. Smaller ones are used for residences and the bigger ones in commercial properties.
Step 5
You have the option of using a no touch voltage tester. This kind looks like an ink pen. The end of it is transparent. When it is placed against the proper place, it illuminates to indicate electrical current is present. If it does not illuminate then no electricity is flowing.
Step 6
You can run testing on appliances. Oven and clothes dryers need to be tested with care. The safest way to test either of these if to do it via thermostat, valve or switch. If your voltage tester reads 220/240, then the thermostat is open. If it reads zero then there is no electrical current. With all electricity project, use caution. Wear protective safety equipment and use common sense when dealing with any form of electrical current. Safety is always first.
Filed Under: General How To's
About the Author: Jason Prickett loves to write about home maintenance and stuff you can do yourself instead of hiring any professional. His step by step guides will assist you in completing your home maintenance tasks.
Comments (0)