By Marie Mayle on Apr 01, 2010 with Comments 0
---
Cash flow is a major factor in the daily life of every small busi­nessman, and rising bankruptcy and liquidation rates have emphasized its importance. However, ideas for actually speed­ing up the realization of money locked up in debts are in rela­tively short supply. Our technique that can be used with advan­tage is that of 'telephone cash collection'.
This method involves systematically using a commercial phone system to contact clients for payment instead of sending first and second reminder letters, seven days warnings and so on. It requires a similar skill to telephone selling, the main difference being the attitude that the telephone collection clerk has to the call. He, or more often she, is con­cluding the business transaction rather than starting it. She is collecting money due and is entitled to speak with authority to anyone at the debtor company to achieve this. Because of this strong position senior staff can be reached more easily and any likely problems in collection discovered early.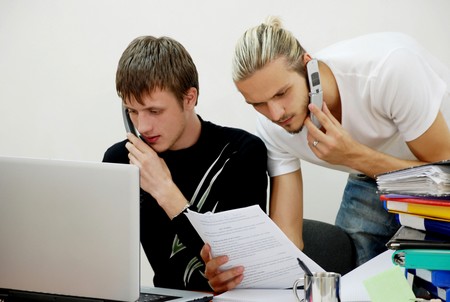 The key to effective debt collection by telephone is prepar­ation. Records to be referred to must be clear and accurate. Muddle and delay while on a call is not only costly but spoils a positive first impression. The caller should always try to keep the initiative, but this is impossible if constant requests to 'hang on a minute, will you' are made.
The main information that should be available is how much money is owing in total, how much is being asked for now, and how the latter total is made up in terms of invoices and credit notes. The sales ledger must be right up to date on the cash received side. It is embarrassing to demand a cheque for invoices that were paid a few days before.
The sales ledger is best kept in a form showing all outstand­ing invoices separately. Any that are missing from the customers' ledger can then be easily identified. Preferably, invoices for each month should be together.
An 'aged' list of unpaid invoices for each customer is the ideal document to work from. If the present sales ledger system does not provide data in this form, an analysis of invoices into one, two and three months old and over can readily be pre­pared by hand.
Having verified what is due for payment the next important matter is to decide who to talk to. In most cases the customer's purchase ledger clerks will be the first stage. They will be able to say whether the caller's invoices have been passed for payment and if so when the cheque will be paid. Queries will also be identified at this stage. However, the object of the telephone call is to get payment from the debtor earlier than he would normally wish. Real progress will only be made, therefore, if a promise of payment is obtained from someone who can guar­antee that a cheque will be drawn, signed, and actually posted as a result of the telephone call.
This person will normally be the accountant, and his name and that of the managing director should be requested in the course of the conversation with the purchase ledger clerk. This has the added benefit of letting the clerk know that the caller means business and that unfulfilled promises will be followed up.
The result of the call should, if possible, be a specific promise to send a cheque on an agreed date. There is little point in mak­ing a series of calls to be told each time that 'I will look into it' or 'A cheque will be in the post soon.' Promises received must be followed up if the cheque is not received on or soon after the date promised.
The telephone collection method works best if a careful record of results is made. The main points of a conversation should be compared with the subsequent receipt or otherwise of a cheque. This leads to the early recognition of the main tech­niques of avoiding payment.
Good relationships built up with the staff of regular but slow payers help towards earlier payment. Evasive answers or broken promises help to identify the major risks quickly. Likewise, a business should be ready to receive calls of this nature and address them effectively. A phone answering service can be hired if the volume of calls expected is high, and beyond what you can deal with locally. There are several companies offering business telephone answering services so you need to find one that suits your business needs. All of this combined with the proper legal processes can make telephone collection very effec­tive.
Filed Under: General How To's
About the Author: Marie Mayle is a contributor to the MegaHowTo team, writer, and entrepreneur based in California USA. She holds a degree in Business Administration. She loves to write about business and finance issues and how to tackle them.
Comments (0)