By Jason Prickett on Oct 13, 2010 with Comments 0
---
One of the leisure activities for women in home is to stitch their clothes by their own. And learning to use a sewing machine is much easier. There are hundreds of models of sewing machine but the basics are same in all those. And here are the steps to follow while to start using sewing machine
Select a good work area:
Make sure you have sewing cabinet or table to keep the sewing machine so that you can sit in front of it. The machine arrangement should be as like the body of machine on right and the needle end on left.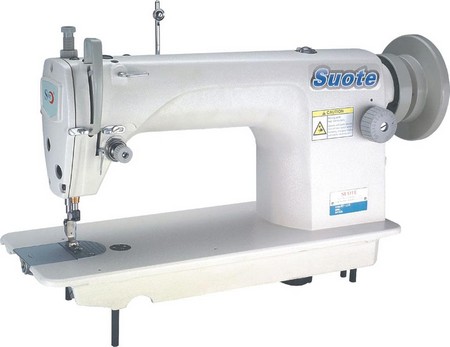 Careful in setting up needle:
Be careful while setting up the needle to machine, so that there is no damage done to machine and as well as for you. Tighten the thumbscrew after inserting the needle. Check the needle for straightness and sharpness before inserting.
Spotting the ski-shaped part:
The presser foot is in shape of ski which grips the fabric down. Learn how to use it.
Inserting bobbin:
Bobbin is usually of silver metal which is an inch high above spool pins where you do the threading. And threading the machine is also important.
Switch on the machine:
Plug the wire and switch on the machine and don't forget to plug the pedal to the machine. Make sure you keep the pedal in a comfortable place under your feet.
Practicing sewing:
Everything is set and you are ready to use the machine now. Start practicing with simple, woven material for your first sewing experience and don't choose knits because it will harder to handle. Don't use heavy fabric for your practice as it will be very thick and hard to handle. Just go for an old pillowcase or shirt if there is no scrap fabric around. Ironing the fabric before practicing will prevent it from holding on the needle.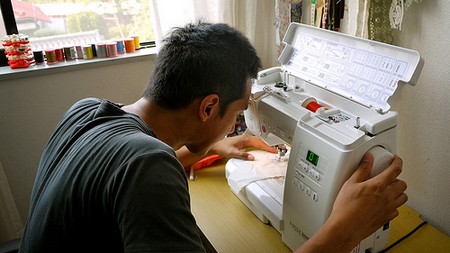 Pinning fabric:
Near the edge of fabric, pin the two pieces along right side. And so it will make the seam allowance to end up inside. The pins should be place perpendicular to the line of seam. Just before stitching reaches the end, remove the pins so as to avoid damage. At the termination of seam, remove the cloth from machine.
Selection of stitch:
Refer to the manual for doing this setting. While selecting the stitch keep the needle out of the fabric and up. The most common sew seam is straight stitch and the next common stitch is zigzag.
Lining up fabric:
Start the sewing with the mass of material to the left of the machine. Because thronging the huge mass on the right side will cause untidy stitching.
Lowering the presser foot:
Lower the presser foot on top of the fabric. And the stitch length and the speed can be adjusted on the machine. Now it's ready to sew. Hold the loose ends of both the threads.
Press the foot pedal down:
And explore the pleasure of stitching your own dress and making new style.
Filed Under: Home & Maintenance
About the Author: Jason Prickett loves to write about home maintenance and stuff you can do yourself instead of hiring any professional. His step by step guides will assist you in completing your home maintenance tasks.
Comments (0)