By Leona Kesler on Oct 13, 2010 with Comments 0
---
Are you looking for a few new techniques to liven up your culinary repertoire? Using a smoker to prepare foods is an excellent way to excited taste buds and senses. It gives food a deep and intense flavor that is sure to be a smash hit with everyone who indulges. Cooking foods slower helps to lock in juices and boost the flavor of any dish.  You can smoke fish, chicken, beef and more.
There is no limit to what you can do with a smoker. If you love tender results, smoking is something you have to try your hand at. The process isn't difficult, and you don't have to be a five star chef to make a great meal. Read on for more information about how to use a smoker.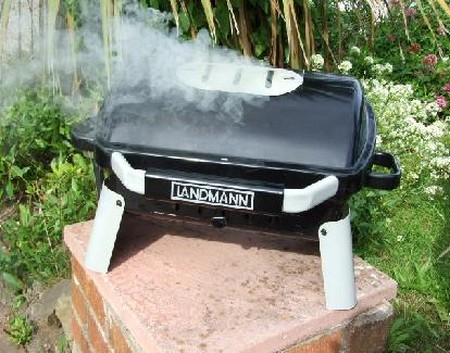 Instructions
Step 1
Be safe with anything that uses fire and smoke. Situate your new smoker on a completely level surface. You need to be outside and a safe distance from any overhangs or entryways. Place your smoker on a flat; hard surface outdoors away from enclosures and roof overhangs. There are many different types of smokers available. Find one that best suits your needs and budget and follow the manufacturer's directions closely.
Step 2
Research the different varieties of smokers available. Then, choose the one that fits your cooking style the best. Place some briquettes into the pan of the smoker. Then, use some lighter fluid to help get the fire started. You want to let the lighter fluid permeate the briquettes before attempting to ignite them. For additional flavor toss in some of your favorite wood chips. This will make your meat absolutely delicious.
Step 3
Make sure there is water in the container. Adding water will contribute to evening out the cooking temperature and making sure there is moisture in the cooking process. If you want to make the cleaning easier on yourself, then place foil in the bottom of the pans. If you are still looking for a way to add some flavor, add seasoning and spice to the water pan as well.
Step 4
Ignite the wood flavor chips and the briquettes. Please use all precautions. The lighter fluid is flammable and you don't want a fire. Use safety lighter or long stemmed matches. Monitor the cooking temperature. It should be about 225 to 250 degrees if you want a nice, slow smoking process.
Step 5
Put the meat that needs to be smoked onto the smoker grate. Use rubbing seasonings, to season the meat. Any other form will burn when slow cooked. If you want to add a barbecue sauce, you can place it on the meat when the last hour of cooking time comes. Any time before that will scorch the sauce and ruin the flavor of the meat.
Filed Under: Food & Cooking
About the Author: Leona Kesler is a head-chef at a very popular food restaurant in New York. Also she is a blogger who shares her experiences, tips, and other informative details about food and cooking. Her recipes are featured on many magazines.
Comments (0)