By Leona Kesler on Apr 24, 2010 with Comments 0
---
Their main function of the food processors is to liquefy food or break it down into smaller pieces. They are the professional cook's first choice for chopping, slicing, grating, and pureeing safely, with accuracy and speed. They can also mix up cake mixtures, knead bread dough, whisk egg whites, and whip cream. Bear in mind that different models do this with varying success. If you're a basic cook, you're likely to be pleased with the results. However, an expert cook may want the superior results of specialized appliances – a mixer is better for whisking egg whites. From crushing ice to mixing a cake, the wide range of tasks this machine can tackle makes it the most important food preparation appliance you can have. Buy this before a mixer or blender as it can adequately do their jobs. Budget models, with less powerful motors, mean there are food processors to fit the smallest budget.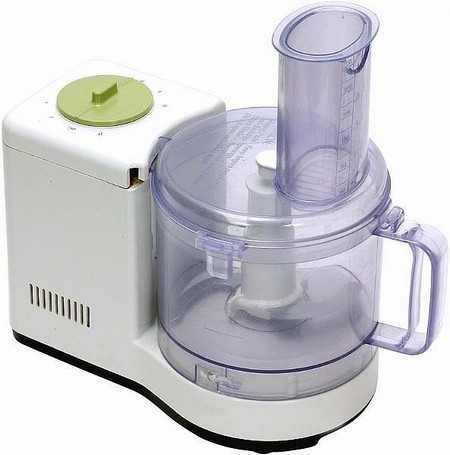 Use and maintenance
You'll need attachments for specific jobs, such as grating disks (in thin, medium, and thick sizes) for vegetables and cheese. Some will be included with the processor, but you may want to buy extras. A juicing attachment, for instance, works like the standard masticating juicers. When processing hard-to-blend foods, stop every now and then so that the motor can cool in order to avoid overheating. Place the appliance on a tea towel or a plastic mat, to prevent it from moving around the worktop. Take the processor apart in order to clean it thoroughly in soapy water after each use. Be very careful when handling the stainless steel, double-sided processor blade; it is razor-sharp.
To hand-wash the blade, hold the central plastic knob and use a handled scrubbing brush to clean the blades with hot, soapy water. Then leave to air-dry. From time to time, apply vegetable oil sparingly around the rim of the lid, to ease its fit onto the bowl.
Filed Under: Food & Cooking
About the Author: Leona Kesler is a head-chef at a very popular food restaurant in New York. Also she is a blogger who shares her experiences, tips, and other informative details about food and cooking. Her recipes are featured on many magazines.
Comments (0)