By Jason Prickett on Apr 24, 2010 with Comments 0
---
Don't just reach for the beige. There's an infinite choice of colours and shades out there. Discovering how different shades contrast and harmonize with each other is the easiest and quickest way to give every room in your home personality and style.
The hundreds of shades in a paint chart have their roots in just three primary colours: red, blue, and yellow. From these come the secondary colours -violet, green, and orange. Combinations of these make up all the colours within a colour wheel. This is a vital tool for anyone working with colour, because you can see at a glance how different shades complement and contrast with each other.
For complementing colour schemes, find the colour that you like, and then choose a shade from either side of it. This creates a softer effect than contrasting ones do, because complementing colours come from the same primary colours.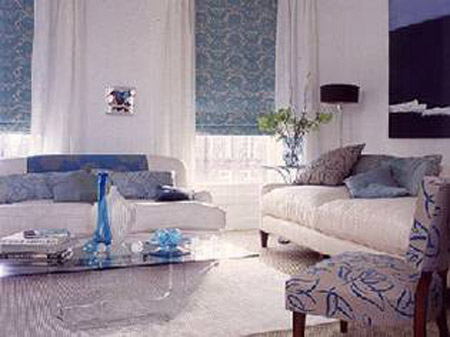 For contrasting colour schemes, find the colour you like, and then add the colour that is its opposite. This creates a colour scheme that looks stronger than complementing colours.
Colour checkpoints
To test a colour, paint or wallpaper a piece of board about 60cm square (2 feet sq) or use four pieces of copy paper taped together and hang this on the wall for several days.
Don't be tempted to paint tiny test squares. The colour sample needs to be this large to give you an accurate impression; you know already that you like the colour, but this is to see if the colour and shade work well in the room. It will show you whether the colour is too light or dark, whether it enhances the room's furnishings, and so on.
Remember to look at your colour sample at different times of the day, to gauge the effect of sunlight upon it.
Only look at one colour test at a time. If you put a row of squares together, you won't be able to assess the new look accurately.
Be your boldest with paint, not paper; if you grow to hate your colour scheme, it will be simpler to re-paint a wall than re-paper one.
Curtains and carpets create blocks of colour; when choosing colours for these, use the colour wheel to pick shades that complement or contrast your overall scheme.
Filed Under: Home & Maintenance
About the Author: Jason Prickett loves to write about home maintenance and stuff you can do yourself instead of hiring any professional. His step by step guides will assist you in completing your home maintenance tasks.
Comments (0)