By Leona Kesler on Mar 04, 2018 with Comments 0
---
Broiling food is a great way to add some texture and depth of flavor to your food. To broil food, you need a pan to broil the food in. A broiling pan is a flat grate with slits in it. It goes on top of another pan that will be there to collect the liquid that may come from the food so it doesn't drop into the bottom of the oven and burn. The purpose of the pair is to make a way for the fat to melt away from food that is being broiled. These are available various styles and sizes. Read on for more information on how you can use a broiler.
Step 1
Purchase a broiler pan from the outlet of your choice. Some stoves come with a broiler pan. Check to make sure you don't already have one. They are easy to clean as well.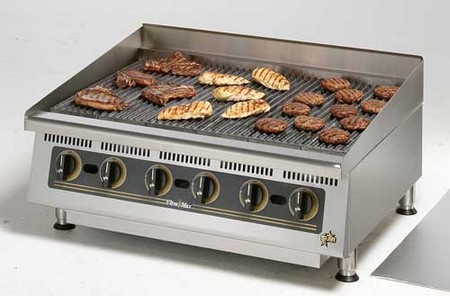 Step 2
Educate yourself on the process of broiling. When the oven's broiler is turned on, the uppermost heating apparatus is initiated. The temperature is very high. At these temperatures, it is likely that food and meats will dry out during the cooking process. Basting and marinade are best ways to lock in moisture with broiled food.
Step 3
Decide is your stove manufacturer says you should preheat the broiler when you plan to use it. If you don't have a set of instructions don't follow this step.
Step 4
If you don't want to keep the fat collected in the pan for anything, then dilute it with water to stop it from cooking and sticking to the pan. It has a tendency to burn at those really high temperatures making clean up a very difficult time.
Step 5
Cook all of your food with the recipe demands. Fat, liquids and other sauces burn out when in the broiler you must take special care to make sure the food does not become too dry.
Step 6
Place the food you are cooking onto the broiler pan tray. Place the pan into the over and turn the broiler on.
Step 7
After the meal is cooked and it's the inevitable time to clean up, place the pain in the dishwasher if you determined it is safe to. If it is not safe to place in the dishwasher, remove all the cooked on food. Then, put it in the oven and select self clean. Another alternative is to spray the hard to remove food on the tray with oven cleaner. Store it in a trash bag and allow to sit overnight. Clean the very next day. Remove all oil.
Filed Under: Food & Cooking
About the Author: Leona Kesler is a head-chef at a very popular food restaurant in New York. Also she is a blogger who shares her experiences, tips, and other informative details about food and cooking. Her recipes are featured on many magazines.
Comments (0)