By Jason Prickett on Mar 04, 2018 with Comments 0
---
If you have a damaged tree in your yard that has suffered damaged to its bark, there is something you can do to help. Repairing tree bark requires some observation and patience, but it is not a difficult process to undertake. The tree's bark functions much like a human being's skin. It's a protection for the tree and is vital to its life, health and longevity. Here is how you can repair tree bark. Read below to find out more information on tree bark repairing.
Step 1
Know how important the bark of a tree is to the organism. Educate yourself. The tree bark is the outside protective layer of the tree. It protects the inner network of the tree that carries nutrients from the root system all through the tree itself. Also, the rough bark protects the tree against a multitude of insects that could hard the tree, infect the tree and eventually cause the death of the tree.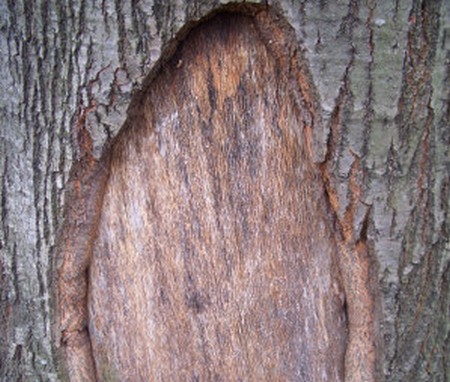 Step 2
Do not cause damage to the tree bark with everyday tools. Sometimes, the machinery and tools we have can be hazardous to the trees around us. Tools we use to maintain the trees like trimmers and mowers can be the cause of severe injury to the tree. Use caution when using these items. If an injury does occur, attempt to fix it right away if the tree is a young tree. In this case, after a year the trauma will be unrecognizable.
Step 3
When repairing the bark of a tree always try and find the missing piece of bark. You want to put the section back on the tree as quickly as possible. You can use tape to wrap the bark back to the tree.  Give the tree 90 days to heal itself. Replace the tape as needed. After the 90 days, remove any taping thoroughly and completely.
Step 4
If the bark can be found, help the tree by attending to the open space. Cut the injury into the shape of a football. Point it on the top and the bottom. Remove all rough and protruding pieces with a sharp blade. You want to give the tree enough time to form a protective layer to keep insects that carry infection out of the injured spot.
Step 5
Begin all repairs as soon as possible. When you notice the injury to the tree, start the process of helping it heal immediately. The faster you start the protective process for the tree, the greater the chance you have at making sure the tree has a complete recovery. The quick response will protect the tree's inner system and reduce the chances of infection from insects tremendously.
Filed Under: General How To's
About the Author: Jason Prickett loves to write about home maintenance and stuff you can do yourself instead of hiring any professional. His step by step guides will assist you in completing your home maintenance tasks.
Comments (0)