By Leona Kesler on Mar 04, 2018 with Comments 0
---
Fish is an easy favorite for a lot of people. If you're looking for a nice lunch or dinner item, Trout should so the trick. Trout is a freshwater fish that is related to the Salmon. They usually occupy cold waters and lakes. It goes well with various side dishes and vegetables.Trout is a boney fish and so baking them is popular. This helps to see and remove any bones that may still be present. You can buy trout that has been filleted in a grocery store or fish market. Here is a quick and delicious recipe for cooking. Follow this easy recipe for a tasty lunch or dinner. Read on for more information.
Items You Will Need:
Thermometer
Trout (2, medium)
Lemon Slices (4) (or lime)
Lemons (2) small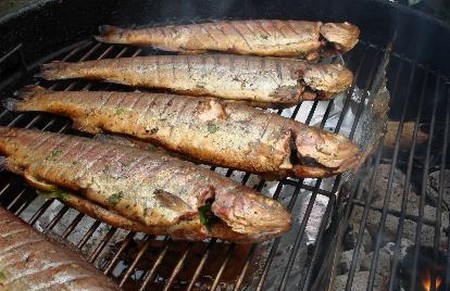 Ovenl
Pepper
Butter (Margarine) ( ½ stick, bottled)
Salt
Butter (Margarine) (¼ stick, cold)
Baking sheet
Utensils
Step 1
Buy Trout that is whole. You want it cleaned, deboned, and gutted in preparation for cooking. You will find that the Trout may be butterflied, help intact by the skin or not butterflied at all.  If it isn't butterflied the head will still be attached. When the head is not attached it is great to stuff with other things.
Step 2
Clean the Trout. Rinse it with cold water and dry the fish with paper towels. Remove as much of the excess water as you can. Place the fish on a slicing board. Do not put the raw fish on surfaces with other food items or vegetables.
Step 3
Preheat the oven to 350 degrees.
Step 4
Prepare the baking sheet by applying ¼ stick of cold margarine or butter. Place the fish on the greased sheet.
Step 5
Extract the juice from the lime or lemon wedges directly onto the trout.  You can apply the juice to the inside of the fish as well.
Step 6
Season the Trout with Pepper and salt..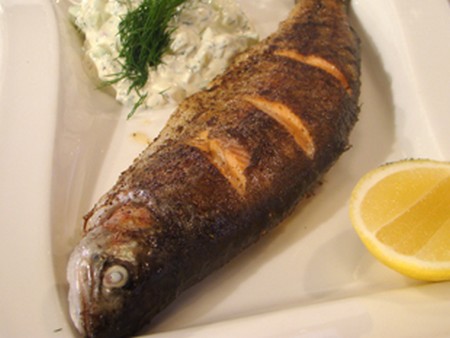 Step 7
Use the bottle of margarine or butter to apply more butter onto the Trout.
Step 8
Put the fish into the over for up to 30 minutes. Periodically check the fish to make sure it's done. Test to see if it flakes when a fork is inserted You can even check the internal temperature. It should be 140 degrees.
Step 9
Plate the new fish lunch or dinner up with addition pieces of lemon wedges.  Some people do not like to have the head attached to the fish. If this is your preference remove the head before presentation. Enjoy the fish with a side dish of your choice. Serve hot. Enjoy.
Filed Under: Food & Cooking
About the Author: Leona Kesler is a head-chef at a very popular food restaurant in New York. Also she is a blogger who shares her experiences, tips, and other informative details about food and cooking. Her recipes are featured on many magazines.
Comments (0)