By Justin Belden on Jul 30, 2010 with Comments 0
---
Sometimes in maintaining our computers it is necessary to uninstall programs we no longer use or that were installed when we purchased the computer. Sometimes we go for uninstalling the programs when we want the updated version of that program. Whatever the case uninstalling these programs is very simple. The following steps help us to uninstall a program from the computer safely.
Making use of program removal feature.
Almost all the computer programs have their own in-built uninstall feature with it. The start menu of the computer shows all the currently installed programs in our computer. First go the start menu and search for the program you are going to uninstall. For each and every program there will be a submenu with it. If we navigate through that submenu, we can find more options like starting the program, configuration settings and uninstall feature.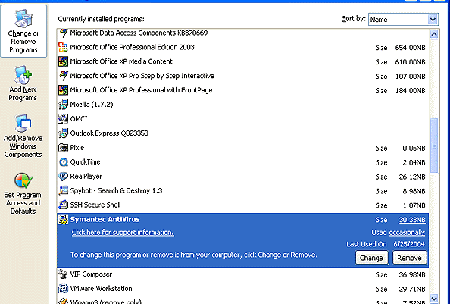 We can click uninstall feature to remove that particular program from our computer.  It will lead to the removal of the program. Usually it is an automatic process and it will ask some warning questions to make sure the removal of the software program that we want.  Sometimes we may wrongly click some other program. In order to carry out the correct process, warning messages helps us to choose the choices. The warning messages include Ok or Cancel options to continue or abort the particular process.
Using Control Panel to remove programs
First go to your start menu and select control panel. This will bring you to a screen that contains many different options. Depending on the operating system you are running you should see an icon labeled either add remove programs, or uninstall programs. Select that icon which will bring you to a screen that displays all the programs currently installed on your computer.
In the drop down list select a program that you wish to remove. Once the program is highlighted you should see an option to remove/change or uninstall displayed somewhere on the screen. Select this button which will bring up a text box asking you to confirm your decision and begin the removal process.
Clean Remaining folders
Each computer program has multiple subfolders with it. These folders consist of some files for the program's functioning. Once you uninstall a program these files don't get deleted automatically and they may occupy some space in hard disk. So we need to navigate through those folders and delete it.
System Registry cleaning
Each program has its own entry in the registry. So we need to delete them to increase the efficiency of the system. If we don't delete them, the system still checks for them and wastes the time.
Filed Under: Computers & Technology
About the Author: Justin Belden is a freelance web & graphic designer with over 15 years' experience. He is also an Avid member of the Design/Development community and a Serial Blogger who loves to help people by sharing interesting and informative tips and trick related to computer and technology.
Comments (0)