By Justin Belden on Jul 02, 2010 with Comments 0
---
Blackberry is a leading Smartphone manufacturer. It allows you to make calls, send text messages, browse internet, share photos, listen songs, and watch videos. The most interesting thing is that when you take photos from a Blackberry you can instantly use them. Like you can share these pictures with your friends and can upload these to any Social Networking site. Following are detailed steps for you to take a snap from you Blackberry 9550:
Right click on "Right Convenience Key". This will open the camera mode of your Blackberry 9550.
Wait for a few seconds to load the camera.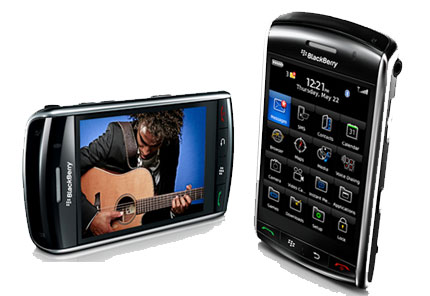 Blackberry provides you with the zoom functionality. Simply slide your finger on the touch screen and the lens will be zoomed. You can click on the "ESC" key to cancel the zoom. The 'Zoom Indicator' will tell you that how much zoom the camera is in at that instant.
On the right side of the "Camera" icon there are two more options i.e. "Flash Settings Indicator" and "Low Light Indicator". It is recommended that you take photos in the Flash Light mode. Simply press the "Flash Settings Indicator" and the camera will undergo this mode.
Now you are ready to take photos with your Blackberry 9550. To shoot a photo, just click the "Camera" icon. You can take as many photos as you can by click the same icon. There is an indicator on the bottom of the screen showing the number of photos you have taken.
Now after you are done taking the pictures, you can see them in future too. They are saved in the memory permanently until you delete them.  Now if you want to see your photos just click the 'Menu' key. To edit your pictures and enstyle them, click on the 'Options' menu. You can add different styles to your photos. You can change their size, crop them and even add some color effects too. You can also set your picture in the background of your Blackberry 9550. You can also send this photo by attaching it directly in the message. So, after reading this guide you can do whatever you want with your photos. You can not only capture pictures but also share them directly. Blackberry gives you this facility to take a picture and add it to any Social Networking account. So, your live moments can be preserved instantly now and your friends can enjoy them too.
Further Readings:
Filed Under: Computers & Technology
About the Author: Justin Belden is a freelance web & graphic designer with over 15 years' experience. He is also an Avid member of the Design/Development community and a Serial Blogger who loves to help people by sharing interesting and informative tips and trick related to computer and technology.
Comments (0)