By Fred Goodson on May 24, 2010 with Comments 0
---
All know that dogs are the most popular and obedient animal but after dog, its only cats that are the most loving domestic animal. Actually they are characteristic, and so are ideal for our home living. They simply can be gentle and are very affectionate, if the owners properly take care of them. Cats need more attention, more love as compared to dogs and it is often a very boring work. But here you'll get the right direction regarding how to do that, and then you'll be convinced that it is the easiest work.
Follow these few steps when raising a cat:
Treat the cat as a baby. There are experts who say that adult cats have a 3 or 4 year old baby's brain. They need lots of care with love and attention like you give to you 3 year old baby. Cats have a 3-4 year old baby's mental capacity and it won't change during its whole life till its death, unless we provide advance learning like that in labs for research.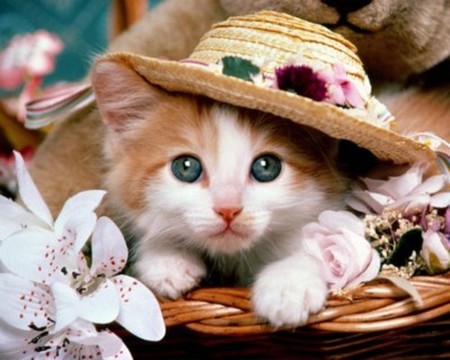 Do you understand the needs of cats? Cats prefer to live along with their siblings and the mother. When you give a home to a cat, it would definitely search for a mother and other siblings. So it will prompt you to be a mother. You have to sure why the cat is trying to be closer to you or wants to sleep with you or wants to play with you, etc. Keep all these things in your mind to avoid inconveniences or bad treatment to cats could give rise to bad habits.
Do not be loud. All cats, especially kittens, hate sudden loud noises. It would be better to advise your children and your friends that you've a cat in home, and they can't tolerate this much noise, for they are not as strong as we are.
Prepare those things, which the cat needs. Kittens are very demanding; they are like babies so you've to treat them like babies. For kittens, you have to essentially put water dish, learn if can cats eat peanuts? and use food dish, litter and litter box. Also put a well comfort bed for them and if possible provide an area to play.
Make correct placement. Now it comes as a responsibility that things related to the cat should be placed at a proper place. The place should be chosen such that it has minimal interference. And ensure that the chosen place is not close to other animals' places or your cat's dinner might be stolen and you'll find a big problem awaiting you.
Take proper medical care. As we ready a medical treatment box for us, likewise always be ready with a box for your cat that contains gauze bandage, and alcohol, peroxide, penicillin, as well as a wormer for cats.
Deal with fleas without delays. Once you find some fleas out in cat's outer body try to get them out immediately. Thinking and taking much time will give them nothing except worse flea infection. Many of the medicine and other products are available in the market which can easily protect the cats from fleas but before you try to use these medicines or products on your loving cat please try to have a simple test to see your cat is fine with those products. A few cats have skin that is sensitive for such chemicals. It may cause allergies like simple rashes, lethargy and sometimes result in vomiting.
Provide a clean environment for the cat. Prevention is better than cure, implies for cats as well. Keep the cat in a healthy environment. It would be a big help in the prevention of any disease. Ensure that you wash your cat utensils everyday. Clean the bed and toys, too. Double-up your normal cleaning work if your cat is ill. In this way, the cat will quickly feel better and help put a full stop on the disease before it spreads.
When you adopt a cat it's your responsibility to take care of it. Think how nostalgic and lovely moments they are when you bring a little kitten home. If you have managed to read this seriously, it is a very good thing for it shows that you are willing to take up the responsibility.
Filed Under: Pets & Animals
About the Author: Fred Goodson has a passion for pets and animals. He has 4 dogs and is planning to have another one. He is also a blogger who writes about pets and animals. Currently, he is living in New Jersey.
Comments (0)