By Alan Kennon on May 24, 2010 with Comments 0
---
A scarf is one of the best fashion accessories as it can put life into a very boring and dull outfit also and can make it the ultimate stylish. It is also a really versatile accessory, since you may use it to tie around the neck, or to cover the head or even to simply tie it on the hand. As it essentially a fabric piece and nothing else, so you can go ahead and try as many permutations and combinations as you want. You have almost every color imaginable available in a scarf and therefore you can have something to match with every outfit of yours.
Like every other piece of clothing you own, you need to take proper care of a scarf also. Some tips to help you take care of a scarf are: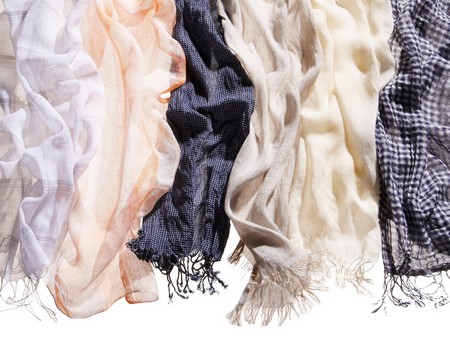 Carefully read the scarf labels. These labels contain all the information relating to the washing and maintenance of the scarf. Washing instructions vary from scarf to scarf. Some may only be dry cleaned and not machine-washed. Others must be washed using warm water only or hand washed. The type as well as strength of the detergent to be used will also be specified. Instructions regarding ironing are also stated in the label such that the ideal temperatures are given. These instructions are very important for you to keep your scarf carefully.
Tie the scarves slightly loose. When you knot a scarf, it loosens the thread in the weaving of the same, resulting in a warped shape of the scarf. A much better option is to use other mechanisms to tie your scarf such as a brooch or a pin or any other such locking devices. Be careful to use these devices gently.
Stack your scarves neatly in a drawer or a rack. Make sure you do not stack your scarf knotted, for then it will retain that shape. They should be folded flat or should be hanging from a stand, to be used readily. The place where you stack the scarf should be free of moths, fungus or mildew. These are what can ruin your scarf.
Do not let your scarf get stained by blood, grease, oil or grass. These stains are very hard and cannot be removed. Any attempt to remove these will require a strong detergent that will damage the fabric of your scarf.
Do not use the same scarf repeatedly. Indulge in variety. This even gives you a different look every time. The same scarf every single day will not be such a trendy idea.
In all, taking care of a scarf is a pretty easy job. Just keep in mind all that is mentioned above to give your scarf a longer life. For taking care of a scarf is nothing more than just prolonging and maximizing its existence.
Filed Under: Lifestyle & Personality
About the Author: Alan Kennon lives a very happy life with two kids and a lovely wife. He likes to share his life time experiences with others about how they can improve their lifestyle and personality.
Comments (0)