By Bruno Silva on Sep 02, 2020 with Comments 0
---
Argument doesn't mean fighting. Not all the arguments lead to fight. Argument is general sharing of opinion between two persons or groups. But there are some unpleasant arguments which may result in clash between them. Even though the argument is mainly used for sharing opinions about a specific topic to have a common conclusion, if the conclusion is not common then the argument burst into a big clash between the parties. Unless they accept a common conclusion, the argument will not conclude. Open communication is the only way to attain a common conclusion. If it is poor, it even leads to verbal abuse and also physical abuse. This article will give you some needed tips to avoid the argument and to safeguard yourself.
Have a break: This break will give both parties to think on the topic. Try to have a cup of tea or urinate or have a smoke, this will calms down your mind, divert your concentration and you could have a wide look on the argument. If you are not getting this break means, politely ask excuse from the opposite party and have a break for 5 to 10 min. if you not interested in arguing, ask sorry and say you are tired and leave that place. Don't leave when other person is arguing, this will worsen the situation.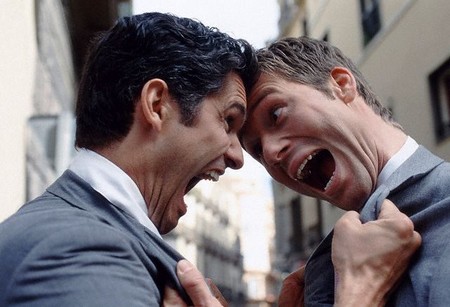 Listen: In any case, don't dismiss from listening the other person's argument. This is an improper and a very rude behavior. Try to understand the other party's vision about the topic. If anything wrong, try to digest it to avoid the clash and say them politely about their mistake.
Avoid interruption: Interruption is a very worst habit in any type of conversation. This makes a smooth argument a worst one. Even though the other person says something wrong, wait till it comes for your turn and then express it. Don't assume that the other person will have this thing in his mind.
Don't think about your pride: Leave your pride and ask sorry for any mistake which you have done before. This is one of the best ways to stop an argument. Apologize that you have done the mistake.
Be honest: Whatever the situation is, be clear and honest in your point that you want to say. Convey your feeling clearly. Don't use double meaning words.
Just follow the above mentioned tips keenly while having an argument; this will make your argument smooth and safe. Try to have an appropriate facial expressions, this will give life to your argument.
Filed Under: General How To's
About the Author: Bruno Silva is an entrepreneur from Portugal with over 15 years of experience in Online Marketing. He is also a blogger and writes on variety of topics from online marketing to designs, cars to loans, etc.
Comments (0)