By Jason Prickett on Apr 24, 2010 with Comments 0
---
A well-stocked larder is the secret of a smooth-running kitchen. As well as being able to cook meals for unexpected guests, with the basic ingredients on hand, you'll be able to concentrate on creating varied, nourishing meals. Apart from larder essentials, such as breakfast cereals, biscuits, fruit juice concentrates, and instant hot drinks, there are a number of items it is very useful to have as stand-bys for pepping up recipes and adding quick flavor to dishes. The best thing to do is experiment to find out which ones you find most useful.
Tips for good larder stand-bys
Dried pasta, such as lasagna, spaghetti, and penne, will keep well even once opened, so it's worth building up a stock of different types.
Rice, noodles, and couscous are vital for both last-minute meals and bulking-out meals for the hungry.
Dried beans and peas: all kinds – from kidney beans and chickpeas beans to garden peas – are great for adding to soups and casseroles and beans are an excellent source of protein.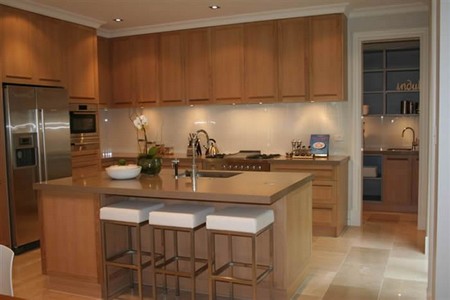 Dried fruits like apricots and raisins are useful for baking, can be added to breakfast cereals, and are a good alternative to sweets.
Plain and self raising flour can go stale within three months once opened, so don't overstock this. If you only have larder space for plain flour, you can add baking powder for recipes that need self-raising flour. Cornflour is useful for sauces.
Baking powder, baking soda, and dried yeast are useful cooking ingredients. Bicarbonate of soda also has cleaning uses.
Dried herbs, such as parsley, basil, and rosemary, can lift everyday meals such as casseroles and roasts. Dried herbs are stronger than fresh ones so just one or two teaspoons will be plenty.
Ketchup, soy sauce, mustard, and pes to can be used to add zest to barbecue marinades and cooking sauces.
Dried spices, such as cinnamon, red pepper, cloves, and peppercorns, are another easy way to add flavor to dishes.
Canned tomatoes are great for bulking-out more expensive ingredients like meat and for using in pasta dishes, soups, and casseroles. Sieve them to make a delicious base for pizza toppings.
Canned tuna is a perfect stand-by by for snacks, pizza toppings, quick fish-cakes, and salads.
Syrup, honey, and molasses means you'll have something to add to a variety of dishes, from top­pings for pancakes to marinades for barbecued food.
Jam and preserves can be used for quick cobblers and pies. Apricot jam makes a tasty glaze for oven-baked ham.
There is a wide range of vinegars and oils available. Red and white wine vinegar are useful for salad dressings and for mixing marinades. Extra virgin olive oil is a healthier choice than standard vegetable oil, and is ideal for frying, using on salads, and as a recipe ingredient for cakes and desserts.
Stock cubes and vegetable paste are ideal for adding flavour to soups, casseroles, and sauces.
Nuts, especially walnuts and almonds – ground and whole – make a great high-protein snack and can also be used in cakes and salads. For con­venience, you might want to store ready-shelled nuts that are sold in vacuum packs.
Filed Under: Home & Maintenance
About the Author: Jason Prickett loves to write about home maintenance and stuff you can do yourself instead of hiring any professional. His step by step guides will assist you in completing your home maintenance tasks.
Comments (0)