By Jason Prickett on Apr 24, 2010 with Comments 0
---
Choose window boxes to make a statement, and reflect the style and decor of your home: organic-terracotta for a Mediterranean feel, perhaps; simple wood in the Shaker style; or galvanized metal for a modern, urban setting. But remember that the planting is the main attraction.
Window boxes, especially those made from terracotta, may simply stand on the windowsill. The safest way to secure a wooden, plastic, or metal box is to screw galvanized metal brackets through the box into the wall. You'll need a power drill to do this.
In a flat with a balcony, you may choose to attach the box to the balustrade or let it stand directly on the floor. Balustrade boxes require lightweight compost and polystyrene chips rather than heavy stones at the bottom of the box for drainage. Floor boxes can accommodate heavier plants and soil.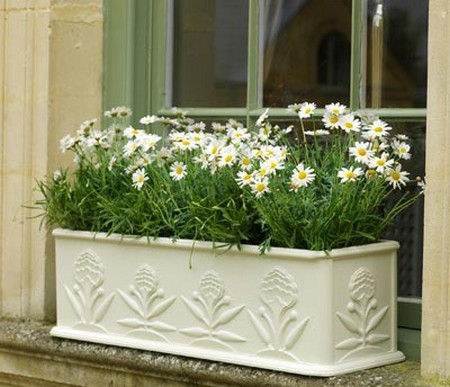 Choosing the planting
Select plants to reflect the look of your container -bold urban-style boxes benefit from the architectural shapes of cacti or yuccas, clipped box or bay tree. More traditional country containers suit soft, tumbling, pastel-toned flowers and herbs. Consider also the micro-climate and location: the higher a window box, the hardier and more low-lying plants need to be, as they will be subject to strong direct sunlight in summer, and cold winds and frost in winter. Heathers are a good choice for exposed north-facing boxes. Sheltered window boxes can handle bulbs, most bedding plants, and all-year herbs, such as thyme, sage, and mint.
Aim to provide year-long interest. This may mean making your box a temporary home to narcissi in spring, then summer bedding plants or geraniums, then autumn bulbs. To make the best use of minimal space, remove plants as soon as they have peaked, and repot to finish off in a cool room.
Planting a window box
Scatter the bottom of the window box with a drainage layer of broken terracotta pots, or stones. Cover with a layer of water-retaining granules mixed with a small amount of compost, according to product instructions. Add a layer of compost, Press down gently.
Set the well-watered plants in the compost. Fill the area around each plant with compost, and firm the compost down.
Water thoroughly, and add a thick layer of mulch, such as composted bark chips, to retain moisture.
Simple maintenance
Drying out is the main problem with window boxes and hanging baskets. In summer, they need to be watered at least once a day.

Ideally, water when the container is not in direct sunlight – at early morning and dusk.
To rescue a dried-up basket, remove it from the bracket and stand it in the shade in a bowl of lukewarm water.
Keep containers in flower for longer by regularly removing dead blooms.
Regularly add new flowers and foliage to window boxes and baskets.
To hide a basket's hanging chains, train trailing leaves to grow up around them.
Filed Under: Home & Maintenance
About the Author: Jason Prickett loves to write about home maintenance and stuff you can do yourself instead of hiring any professional. His step by step guides will assist you in completing your home maintenance tasks.
Comments (0)