By Alan Kennon on Oct 15, 2010 with Comments 0
---
The Louis Vuitton Monogram Canvas, one of the company's most popular purses, remains a popular item for LV—which has designed and manufactured couture accessories for over 150 years. Fake Louis Vuitton handbags abound on the streets and at disreputable stores, so you might end up spending your money on knock-offs. Because of the plethora of non-authentic Louis Vuitton purses, if you plan on buying a Louis Vuitton handbag you should consider these tips to help you determine between the real deal and a copycat.
Louis Vuitton Monogram Canvas handbags don't come with yellow authenticity cards or sample swatches. If you see a Louis Vuitton purse with these attached to it, it's not an authentic piece. Don't let a high price on a purse fool you because a very expensive purse does not by default mean you have an authentic bag. Also, even if you get your purse from a trusted seller, check for authenticity. It takes only a couple of minutes to ensure you will spend your money on the real deal.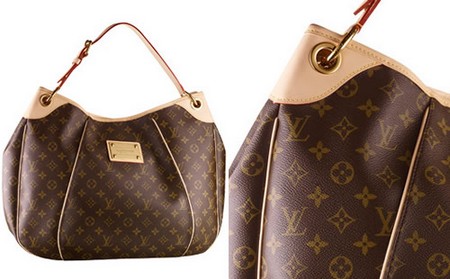 Louis Vuitton purses never have the handle covered in paper or plastic. You might think that kind of covering exists to protect the handle, but know this actually provides a clear sign the purse you're considering is a fake. Also, look at the number of handbags on display. If the seller has many of them, this usually indicates a stock full of copycats since Louis Vuitton always has a limited number of handbags available.
Carefully analyze the leather on the handbag. New Louis Vuitton purses have leather in a pinkish color, while older ones have a honey brown color. Yellow and dark brown leather indicate copycat Louis Vuitton purses.
The handbag shouldn't have sewn-on bottoms. Louis Vuitton makes all its handbags from a single piece of leather, and any sewn-on part constitutes a sign of an inauthentic purse. If you want to buy a Louis Vuitton purse online but see only unclear photos, you need to check for all the authenticity signs and contact the seller to ask for more photos. If the seller has an authentic product, he has no reason to refuse your request.
The "LV" monogram never gets cut off on an authentic Louis Vuitton purse. No matter where you look, the monogram should appear whole. Though just a general rule, keep in mind that you can sometimes make exceptions for the popular Ellipse model.
The monogram on the back of Louis Vuitton handbags appears upside down compared to the front. If you see an upright monogram on the back, you have before you a fake Louis Vuitton purse. Take note, however, that the Plat Sac model sometimes except this rule.
Filed Under: Lifestyle & Personality
About the Author: Alan Kennon lives a very happy life with two kids and a lovely wife. He likes to share his life time experiences with others about how they can improve their lifestyle and personality.
Comments (0)