By Vanessa Page on Oct 15, 2010 with Comments 0
---
A cooking expert, more formally known as a chef, can create extraordinary meals and present dishes in a fashionable and artistic way. You can learn techniques from many famous chefs. It can take several years for a person to become a proficient or expert cook, so follow these tips to learn more about becoming a chef.
Instructions
Gain experience while young and still in high school. Seek employment as early as you can in a restaurant or café in your area. It doesn't matter if the position you take doesn't involve cooking, as the experience will teach you how to stand and work for long hours in a kitchen environment.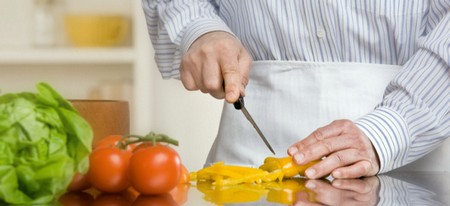 Inquire with your guidance counselor about a training program in your area for chefs. Start preparing yourself for a formal education and work through it.
Successful cooking experts and chefs must acquire formal education, training and a wide variety of experience to equip themselves for work in this field. Formal education in a school environment may take up to four years to finish. Check out the American Culinary Federation Web site (http://www.acfchefs.org) for more and detailed information about, apprenticeships, accredited culinary schools, certification preparation, jobs and other related information. Formal education along with experience and training will help make you a professional cook.
Determine what kind of food you would like to cook and the type of kitchen in which you would like to work so you can determine your specialties and your unique trademark in the world of cooking.
Understand that as a beginner, you'll get early experience in the least-skilled job areas in the kitchen such as as a simple helper or even a dishwasher. While you gain more knowledge and grow to understand more about the work in the kitchen, you will gain more skills as part of the learning and education you need. As you progress, you can eventually step up to the next level of culinary preparation in a bigger restaurant by becoming a line, sous, head, executive and, finally, a master chef. Pastry chefs follow their own unique ladder.
To validate you have acquired and undergone the training, education, experience and skills of a chef, you must acquire that certification from the American Culinary Federation. This will mark your learning as authentic once you possess a certified cook designation.
You might have other plans, too, so take the necessary business courses if you want to have your own restaurant or café later on. You would also need it if you want to secure a managerial and executive position in another company or other establishments. Opportunities prove endless if you have the proper skills, knowledge, training and education.
Filed Under: Work & Careers
About the Author: Vanessa Page works a career counselor in one of the leading firms in Los Angeles. She is also a blogger and gives tips on how people can tackle their work and career issues. She has 8 years of experience in this field.
Comments (0)