By Leona Kesler on Nov 24, 2010 with Comments 0
---
Pork ribs have always been the favorite of almost everybody. Whether it's eating at a fancy restaurant or simply a huge dinner party with friends and colleagues, surely pork ribs will be that one dish you won't forget to serve for them.
WHAT YOU'LL NEED
Barbeque sauce
pork ribs
chopped carrots
green peas
sweet corn (off from the cob)
butter
INSTRUCTIONS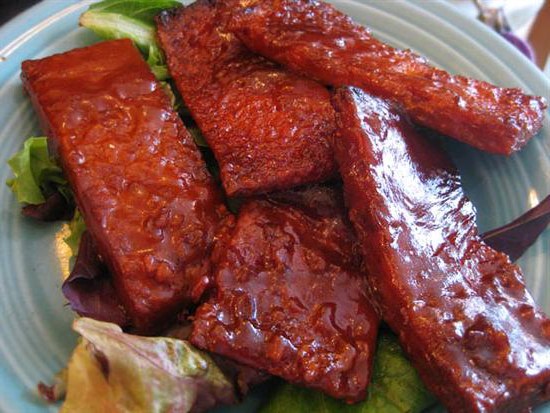 Prepare the pork ribs and let them sit at room temperature at least 2 hours before you start cooking them.
Preheat the oven at a temperature of 250 degrees F.
While waiting for the oven to reach the desired temperature, cut the ribs into 3 pieces.
Get the barbeque sauce and brush the pork ribs with it. Then, put the ribs with the bones facing side down right on top of a shallow roaster.
Then, pour in a bit of water at the bottom of the roaster and cover the roaster. Let the ribs sit inside the oven for approximately 2 hrs and 15 minutes.
Open the oven and get the cover of the roaster and brush more barbeque sauce on top of the pork ribs. Then, let the ribs cook for about 45 minutes more or until such time the meat is tender.
Down to the last 45 minutes of cooking the pork ribs, you need to brush the ribs with more barbeque sauce. Brush the meat for at least 2 or 3 times. Leave the cover off from the roaster. This will let the barbeque sauce stick to the meat.
While waiting for the pork ribs to be cooked, you prepare a side dish. On a hot skillet, add a slice of butter and when it's hot drop the carrots, green peas, and sweet corn. Sauté everything for about 3-5 minutes. Do not overcook the side the side dish. This will lead to a mushy and not so tasty side dish which will not be good for your pork ribs.
When the pork ribs are all done, put them on a platter let them sit for at least 10-15 minutes before serve.
After which, add the side dish and serve. You can add up a glass of red wine in order to make the dish more flavorful and tasty for your entire family or guests.
Filed Under: Food & Cooking
About the Author: Leona Kesler is a head-chef at a very popular food restaurant in New York. Also she is a blogger who shares her experiences, tips, and other informative details about food and cooking. Her recipes are featured on many magazines.
Comments (0)