By Leona Kesler on Nov 24, 2010 with Comments 0
---
If you have ripe strawberries grown at home, it is time to make your own strawberry cobbler. Making your own strawberry cobbler is easy and it makes a very fine dessert to pair with your barbecue grilled foods. If you do not have strawberries grown at home, you can always buy them from the local grocery stores during its season. Strawberry cobbler is quick and easy to make. You can make it in less than an hour. As long as you have all the ingredients ready, then you are set to go. Anyone can bake strawberry cobbler. You do not need a lot of ingredients and all the ingredients are so easy to buy.
WHAT YOU'LL NEED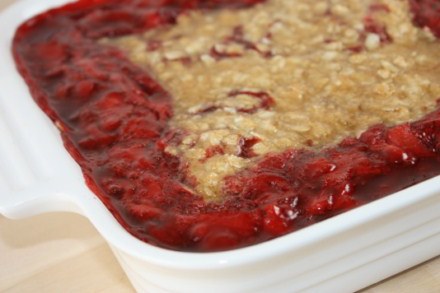 3 cups strawberries
1 tbsp corn starch
½ cup brown sugar
1 cup water
1 cup flour
½ cup sugar
1 tbsp baking powder
½ tsp baking powder
¾ stick unsalted butter
¼ cup boiling water or milk
vanilla ice cream
vanilla
INSTRUCTIONS
Preheat the oven to 400 to 425 degrees.
For the strawberry sauce procedure, prepare your mixing bowl and mix the strawberry sauce ingredients. Take the medium saucepan and combine cornstarch, sugar and water on it. Leave the batter for thirty minutes then cook it for five minutes over medium heat or until it is thickened. This will be the topping. Set it aside.
For the dumplings, mix brown sugar, flour, baking powder, vanilla and salt in another bowl. Sift them all together. Cut in the butter and place it in the mixture. Add the boiling water or you can choose milk and stir it gently until all ingredients is combined forming a lumpy mixture. Pour this batter on a pan which is about the size of an eight by eight. Add strawberries on the top of the batter.
Spread a spoonful on the flour mixture with the strawberry sauce on the berries. You must not stir the dish with all the mixture. Place the cobbler on your oven. Let it cook for twenty five minutes or until they are golden brown. Use a cake tester to check if the batter is already cooked. You can garnish afterwards with vanilla ice cream.
Serve it warm afterwards to your guests. You can also create shapes on your cobbler.
Filed Under: Food & Cooking
About the Author: Leona Kesler is a head-chef at a very popular food restaurant in New York. Also she is a blogger who shares her experiences, tips, and other informative details about food and cooking. Her recipes are featured on many magazines.
Comments (0)