By Leona Kesler on Nov 24, 2010 with Comments 0
---
Tri-tip meat is one of the most sought after cut – it's delicious and tastes good. If you have wanted to cook it for yourself, sure you can. Just read on.
WHAT YOU'LL NEED
1 tbsp. of garlic (chopped finely)
1 tsp. of salt
1/2 tsp of black pepper (freshly ground)
marinade or dry rub
1.5 to 2.5 lbs. of beef tri-tip (the fat is trimmed for about 1/4 inch)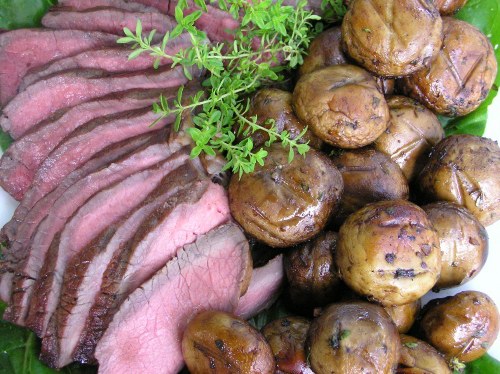 INSTRUCTIONS
Puncture the tri-tip meat with the use a skewer or meat fork. Then, place the meat right inside a large bowl or zip lock bag, slowly pour in the marinade on top of the meat. Then, cover the bowl and let the meat sit over room temperature for 2 hours or so right before you start cooking the meat.
Preheat your oven at a temperature of about 450 degrees F. Then, remove the tri-tip meat from the bowl where you marinade the meat. Next, pat the meat dry.
Put the tri-tip meat and have the meat all side up and put the meat on top of a rack of a roasting pan. Then, roast the meat for at least 20 minutes. Then start checking the meat's internal temperature. To ensure completion, the meat should be 115 to 120 degrees if it's rare or 120 to 125 degrees if it's medium rare.
Get the meat out of the oven and put it on a platter and cover with aluminum foil. Then, let the meat rest for about 10-15 minutes, right before you start carving the meat. This will lock in all the juices within the meat.
While you are waiting for the meat to cool a bit, you can start making the pan sauce which is optional. Get the all the fats on the roasting pan. Then, place the fats on a skillet and turn on the stove over medium-high heat. Then, add the chicken or beef stock, the herbs and wine. Bring the mixture to a boil. Lower down the sauce in order to make syrup. Add the mustard, salt and pepper to taste.
Slice the tri-tip meat into a couple of thin slices. Then, pour in the sauce pan over the meat and serve.
Filed Under: Food & Cooking
About the Author: Leona Kesler is a head-chef at a very popular food restaurant in New York. Also she is a blogger who shares her experiences, tips, and other informative details about food and cooking. Her recipes are featured on many magazines.
Comments (0)