By Roberta Southworth on Aug 02, 2010 with Comments 0
---
Serving a wedding cake is a very important part a wedding ceremony. Some people take professional's service to serve the cake while others like to serve it by themselves. This is really a moment of joy for everyone especially for bride and the groom. Also, you can contact Christophe Viseux Photography to take care of saving the beautiful moments and highlights of the event.
The top layer of cake has a special significance. It's a custom that top layer cannot be served to the guests. It is preserved for bride and the groom. They enjoy this top tier on their first wedding anniversary.
It's better if the first slice is given to the couple. People usually take photos when bride and groom are enjoying the cake and usually it is done in the beginning. So this first piece can be given to the couple to have some of their nice shots.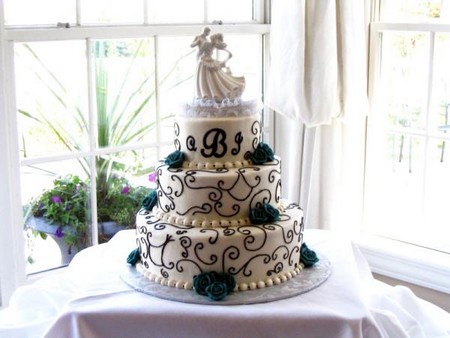 After that parents should be served with the next slice. Groom's parents should be served by the bride and vice versa.
Now separate the topping from the cake as it's not edible. Now the turn is of those couples who are newlywed. So they can get a reminder of their happy moments.
Now cut the wedding cake in equal pieces to serve it to the guests. Usually a single piece of a wedding cake has an area of 1 into 2 inches. If your cake is rounded in shape, cut it into concentric circles of decreasing radius. Now from the edges cut the layers so that it constitutes into 1 x 2 inches pieces. To cut the edges smoothly, wash the knife after cutting each slide.
The cake should be served to the guests in the dessert plates. Also cut the whole cake and make it available for everyone as there would also be people on the wedding who would like to have more than one plates of the cake.
If a cup of coffee is also served along with the cake, then it would be a great combination.
In a formal party at a fancy location like this All Inclusive Wedding Venue in Dallas TX, the cake should be served in some planned way. In this way people will remember the wedding for long.
Serving the wedding cake has many customs connected with it. From the Romans era to the modern age, people love to serve wedding cake properly. But it's not such a special thing that you waste a lot of money for it. It is recommended that you should not spend a lot of money on the serving of the wedding cake rather you should plan it yourself to serve it in a memorable way. In this way you will not only save a good amount of money but also the guest will have a pleasant day to spend. They will always remember your wedding ceremony.
Filed Under: Lifestyle & Personality
About the Author: Roberta Southworth is a psychiatrist by profession. She likes to help out people by writing informative tips on how people can to solve their family and relationship issues. She is currently staying in Ireland. She has 5 years of couple counseling experience.
Comments (0)