By Marie Mayle on Apr 28, 2010 with Comments 0
---
When you have gathered up all the items you no longer need, don't leave them in a box to gather dust. You need to sell them as quickly as possible. If you have a lot of items to sell, you may need to do it in stages, but keep at it.
There are many ways you can sell your unwanted items: your customers may be friends, relatives and neighbours, for instance, or you could do a garage sale. You could also put a small advertisement in your local newspaper. In some cases – depending on where you live – ads in certain publications are free: try Loot in London or FreeAds in Kent and Surrey. You could also put an advertisement in a newsagent's window.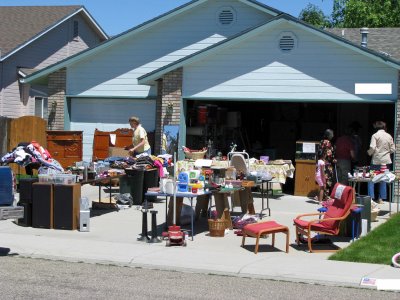 Car boot sales
Alternatively, you could sell at a car boot sale. If you haven't got a car, see if you can get someone with a car to help you. Car boot sales are held regularly in many areas, and the best way to find the ones near you is to contact your local council. Once you have found a car boot sale in your neighbourhood, go and check it out before you do your own. Check to see if it has attracted plenty of people: a busy car boot sale means more money for car booters. Entrance is usually free to shoppers, but as a car booter you will have to pay a small fee when you take your car full of goods there. However, you should be able to recoup the fee from what you sell. Make sure you check how much people are charging for items similar to your own, so that you'll have a good idea of how much to charge for your own items. Try also to remember the faces of people who are selling goods similar to yours: car-booters often buy things from other people at these sales and then sell them on at a higher price, so if you recognise a car booter among your customers, it may be an indication that you have priced your wares a little too low.
On the day of the car boot sale, make sure you get there early so you can get a good position, and take a fold-up table with you so you can display as many of your things as possible. A wallpapering table -available from most DIY shops – is ideal as well as cheap, but borrowing one from a friend or relative is even cheaper.
A length of string tied tightly to each end of your car's boot – and some hangers – can provide a useful hanging rail for displaying a few clothes. Also pack a couple of plastic dust sheets, just in case it rains after all. Take some large boxes too: people enjoy rummaging through them, and they are useful for keeping lots of small items together. Make sure you have plenty of change to give to customers, and a supply of carrier bags ready.
Filed Under: Uncategorized
About the Author: Marie Mayle is a contributor to the MegaHowTo team, writer, and entrepreneur based in California USA. She holds a degree in Business Administration. She loves to write about business and finance issues and how to tackle them.
Comments (0)