By Marie Mayle on Apr 28, 2010 with Comments 0
---
Getting out of debt doesn't have to mean cutting back all the time and not having any fun. You can still have a great time and enjoy all the good things in life, even while your finances recover.
What is your idea of a good life? Naturally we all have different ideas here. Some of you may instantly think of relaxing holidays abroad or fun days out with the family, while others may prefer dressing in glamorous designer clothes and going to parties and nightclubs. Whichever way of life suits you best, there is usually a way to get it without spending a fortune. In fact, in many cases you can have what you want for free.
A good social life should be within everyone's reach, and you shouldn't have to break the bank for it. All you need to do is make a few adjustments. If your idea of good time involves having drinks or dinner with friends, for example, why not meet up in each other's homes occasionally instead of going to expensive restaurants or bars? Entertaining at home doesn't have to be expensive. If you decide to throw a party, for example, ask everyone to bring a bottle and some party food such as crisps, or throw the party with a friend so that you can share the expense. If you need party music, try to borrow it from a friend or relative.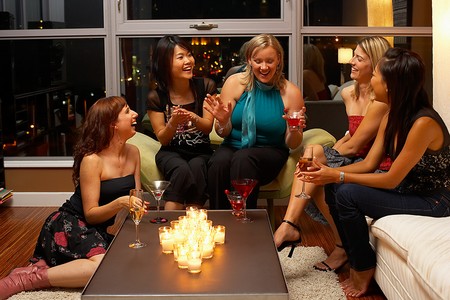 If you decide to have a dinner party, plan your menu well in advance so you can choose recipes that are economical to prepare and keep shopping costs to a minimum. Avoid dishes that require a long list of exotic or expensive ingredients – choose fresh, simple fare instead. Buy ingredients that you can prepare yourself -carrots, for example, will be less expensive if you buy them whole and unpeeled. In fact, most vegetables and salad ingredients will work out cheaper if you wash, peel, trim and slice them yourself. You will also find there are many helpful books that will show you how to prepare and cook impressive, delicious meals on a budget. You can buy these books cheaply from supermarkets or, even better, borrow them for free from your local library.
When you decide to go out, spending a few minutes beforehand seeking out reasonably priced establishments will save you a fortune later. When you are in a pub or bar, choose cheaper drinks, or share the cost of drinks with your friends by suggesting a whip-round. Also look out for cheaper drinks during 'happy hours'. If you go on to one particular nightclub regularly, it may be possible for you to take out a membership and save money on entrance fees. And whenever you decide to eat out, look for special deals. For example, if you can time your visit for late afternoon instead of early evening, you may be able to take advantage of extended cheaper lunchtime prices. Some restaurants also offer discounts on certain days or nights of the week.
Finally, remember that arrang­ing your transport home in advance will help you avoid hiring expensive cabs on the spur of the moment -perhaps you could get a lift from someone, share the transport cost with a friend or arrange to stay the night at the home of a relative or friend? The key to all this is plan­ning: as soon as you know what you will be doing and when, take the time to do a little research and make a simple plan beforehand, and you will save yourself a lot of money.
Filed Under: Uncategorized
About the Author: Marie Mayle is a contributor to the MegaHowTo team, writer, and entrepreneur based in California USA. She holds a degree in Business Administration. She loves to write about business and finance issues and how to tackle them.
Comments (0)