By Jason Prickett on Jan 02, 2010 with Comments 0
---
Saws which have a rigid brass, steel or sometimes even plastic back along the top edge of the blade are covered by another generic term – back saw. The back keeps the saw blade rigid, but also means that it cannot pass completely through the wood. The main difference between the two saws in this group -tenon saw and dovetail saw – is simply one of size.
Tenon saws are designed for cutting tenons but can be used to cut most woodworking joints, thin sheet material and accurate angles when used with some kind of mitering device. Most people choose one with a blade around 10 to 12in long with about 15 points. The depth of the blade is important if you want to use it with a miter box – around 75mm is usually sufficient. The material of the back is not important provided the blade is held rigidly, though some people would say that the heavier it is, the bet­ter. Brass-backed saws tend to be the most expensive. The saws usually have cross-cut teeth which are straight-sharpened.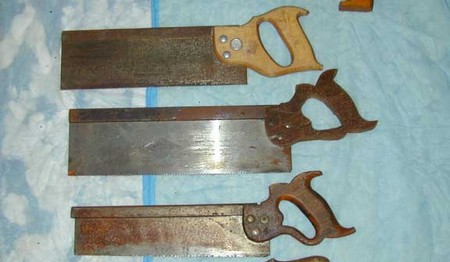 Dovetail saws are for all practical pur­poses smaller versions of tenon saws. They can be used where you need a fine, but not very deep, cut such as making a dovetail joint. The blades are typically eight inches long and the saw has around 20 points but the teeth are not set.
There are also very small back saws which usually have a simple turned handle and are used mainly for very fine work or model making. They are rarely used by the handyman.
When cutting, try to keep the saw blade at right-angles to the wood (always do this when cutting miters or squaring off the wood) unless you are making a joint – such as a stopped dovetail where this is not possible. You can cut the wood both with and across the grain. Holding the wood firmly when you are using a back saw is usually less of a problem than when you are using a handsaw – the wood is generally smaller and for most joints it can be held in a vice.
Filed Under: Home & Maintenance
About the Author: Jason Prickett loves to write about home maintenance and stuff you can do yourself instead of hiring any professional. His step by step guides will assist you in completing your home maintenance tasks.
Comments (0)