By Vincent Carreno on Sep 17, 2009 with Comments 0
---
Paintless dent repair (PDR) is a process of massaging dents out of automotive body panels. This is a relatively new process in automotive bodywork, and a very cost-effective alternative to body filling and repainting. Where body filling and repainting will take up to a week to repair a dent—with no guarantees the new paint will match the rest of the car—PDR can be completed in an hour and you don't need to repaint the repaired panel. The few limits to PDR—old and cracked paint, or deep gouges in the panel—far outweigh the benefits and cost efficiency of this process. Automotive insurers are even willing to issue insurance for dings and dents as long as you use PDR. It's up to you to determine whether you want to pay a premium price for coverage, or if you prefer to have the repairs on a "need to have" basis.
Things You'll Need
Extensive PDR Hands-on Training
PDR Tool Kit
Fluorescent lighting
Repairing Dents Without Paint
Check the extent of the dent: the depth and width.
Pick the right tool for the job.
Check the accessibility of the area behind the dent.
Remove interior panels to get access to the area behind the dent and insert the PDR tool to slowly massage the dent away.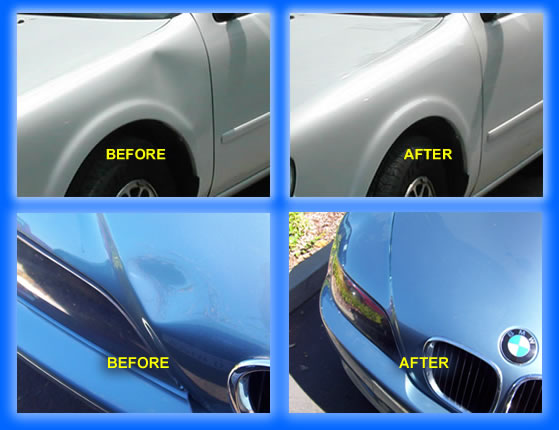 Check the progress of your dent repair. Regularly monitor the effect of the panel massage by shining a fluorescent light against the body.
Drill a small hole near the area if you can't access the dent and insert the PDR tool through the hole.
Make sure you plug back the hole after removing the dent.
Alternate tools to suit your needs. Use a blade tool to bring up low sharp spots, and use a blunt tool to ease up a soft, gradual dent.
Use the fluorescent light to determine if the dent repair is even.
Smooth out the dimples using the blunt tool.
Recheck the surface of the area where the dent used to be, and polish as necessary.
Tips
Do not try PDR without the proper training. There are many off-the-shelf PDR kits, but that does not necessarily mean you can pick up the tools and perform PDR without training. You risk damaging your car panels beyond repair.
Do not attempt to perform PDR on body panels where the paint is cracked or scratched. You can restore the metal to its former shape, but the cracked paint won't be able to withstand repair without peeling off.
Check the age and flexibility of the paint in the car you want to PDR; cars 20 years and older may not have paintwork flexible enough for paintless dent repair.
Further Readings:
Filed Under: Cars & Vehicles
About the Author: Vincent Carreno is a cars enthusiast who loves all things about cars and the automotive technology. He is also the chief editor at a local magazine which shares new, exciting and informative articles about troubleshooting car problems.
Comments (0)