By Justin Belden on Sep 17, 2009 with Comments 0
---
Introduction
MS Powerpoint Management Presentations are relatively easy to edit and change if you have a clear idea what kind of message you want to deliver. Management presentations typically introduce business model changes or project updates. Time is money and management time is a lot of money. The faster you can make your point, the better presentation you have. Powerpoint is simple to use and easy to master. This article gives you an overview of the steps to change your management presentation.
Things You'll Need
Computer
Microsoft Operating System (XP OS or later)
MS Powerpoint
Changing Powerpoint Management Presentations
List down the points you want to express in your management presentation.
Open your existing presentation in MS Powerpoint; double-click the file in MS Explorer, or open MS Powerpoint, then click "File >> Open", then browse to the folder where you saved your old presentation.
Review your management presentation and determine what you need to change to deliver the right message.
Edit the slides and change the content according to your new presentation. Click the text boxes to edit the content.
Click "Insert >> New Slide" to add new presentation panels. You will get a new slide with the same formatting of the rest of your slides.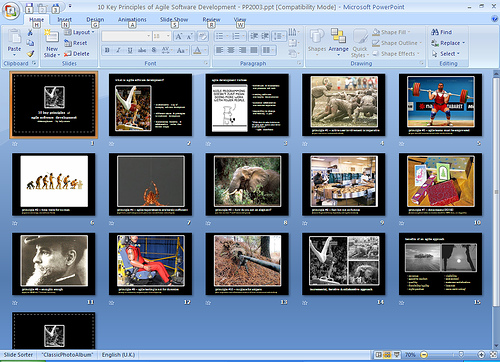 Click the text boxes to enter new text for your presentation.
Make sure you outline your presentation and present your new points in short statements. Click the bullets icon on the toolbar to use bullets for enumerating your ideas.
Expand your short statements during the oral presentation. Don't put all your ideas in the slides, discuss each point as you highlight them.
Click "File >> Save As", assign a new name for your management presentation, and then save as a Powerpoint Show (*.pps). Doing this ensures you can compare the two presentations and you have the old file for reference.
Practice your management presentation by running the Powerpoint Show file and using your notes.
Time your presentation so you will know how long to transition between slides.
Edit your management presentation according to the time limits per slide transition and to the general time limit you have for the entire presentation.
Save the file again as a Powerpoint Show file, then run through your presentation to make sure you have all transitions and time limits covered.
Tips
Resist the temptation to add flashy effects to your presentation. Whether you are talking to upper management or the rank and file, cheesy effects distract the audience from the message.
Make sure you use non-serif fonts that are big enough for anyone to read from anywhere in your presentation room.
Use contrasting colors. If you're using a navy blue background, use white or yellow fonts.
Filed Under: Computers & Technology
About the Author: Justin Belden is a freelance web & graphic designer with over 15 years' experience. He is also an Avid member of the Design/Development community and a Serial Blogger who loves to help people by sharing interesting and informative tips and trick related to computer and technology.
Comments (0)