By Jason Prickett on Jan 13, 2010 with Comments 0
---
If your kitchen flooring is more than 10 years old, chances are that some sort of work needs to be done to it. If it's tile, it may need to be cleaned and regrouted (or at least have the grout cleaned). If it's wood, it may need to be sanded, restained, and sealed. If it's linoleum, it may need to be cleaned and polished at the least, and if it's worn or the wrong color or design, replaced. When planning home renovations, you should consider repairing or upgrading your floors to give them a new look.
Don't be tempted to put carpeting in the kitchen; even a very tight weave such as high-quality indoor/outdoor carpeting won't do. The reason is that kitchen spills frequently stain. In short order your carpeting will need to be washed, and getting out all the stains can prove difficult, if not impossible which is why we recommend to hire the local kitchen resurfacing services.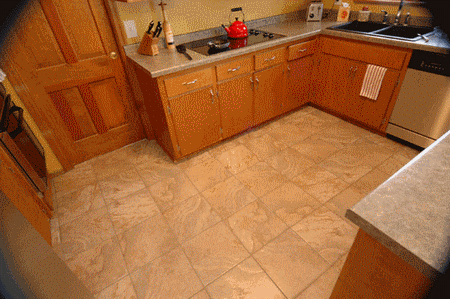 There are many types of floors available besides wood, tile, and linoleum. Vinyl squares are common. Pergo®, and similar composite Wood flooring, holds up very well. Painted cement, though rarely used, has a definite offbeat look. Higher-priced homes may have marble, granite, or slate. These materials are the most expensive you can use, but their appearance and durability are unparalleled.
Linoleum
Linoleum offers a variety of advantages and disadvantages com­pared with other types of flooring.
Pluses
Although professional installation is usually needed for a good job, linoleum can be laid in one or two big pieces that go down quickly to produce a good-looking result.
Linoleum is one of the less expensive types of kitchen flooring. However, as you move into top-quality modern linoleum, it can become quite costly.
Linoleum is warm to the touch and usually no-slip. You get the greatest variety of color and design of appearance with linoleum.
Minuses
Given the many advantages of linoleum, you might wonder how there could be any disadvantages. There are, however, several.
Many linoleums have a soft surface that can easily puncture or tear. These breaks quickly fill with dirt and show badly. Even hard-surface linoleum is subject to visible and permanent scratches and chipping. Dropping a knife or sharp object can scar the surface. Also, some linoleum wears badly over time. The colors and patterns can fade and can even wear through. Tile, wood, or stone virtually never wears out.
Linoleum has a bad reputation that is largely undeserved. In years past (and to some extent even today) low-grade versions that quick­ly wore out were the flooring of choice in lower-priced homes. Hence linoleum has become associated with cheap housing. As a result, it is less frequently put into a high-end home.
A Word about "Squares
Linoleum-like tiles made of a variety of materials are widely available in square-foot sizes. Because the tiles are laid down one at a time, almost anyone can do the work and produce a good result. These, too, come in a wide variety of colors and styles.
Squares, however, have a big disadvantage: seams. No matter how well these tiles are laid, the seams around each square eventually fill with dirt and show. Hence, they are almost never used in a high-quality renovation.
Wood
Wood makes an excellent flooring and has been used as such for centuries. Wood floors in many of the older homes on the East Coast are, indeed, generations old. In Japan, wood flooring goes back many centuries.
Pluses
The advantages of wood are that it provides a durable sur­face as well as a warm look and feel. A prestige item, wood always makes the kitchen and the rest of home look richer.
Minuses
Wood has a porous surface that can absorb liquids, caus­ing it to swell and stain. Thus, wood must be properly sealed on a regular basis.
As our forests have been cut down, there simply is less high-quali­ty wood available; as a result, the price has skyrocketed. The labor costs to install wood flooring have increased as well.
As a practical matter, wood is probably not the best choice in a kitchen, since it is susceptible to water damage. However, a host of new synthetics and wood substitutes are available that give the look and feel of wood without its inherent problems.
Tile
Tile has been the flooring of choice for thousands of years. The Romans were renowned for their tile floors. Tile can be found in the most expensive homes in the world.
Pluses
Tile offers several advantages. It provides a hard surface that, when properly glazed, will not absorb or stain. It is difficult to damage after it has been properly laid (although individual tiles can be cracked or chipped). A prestige item, tile comes in a great vari­ety of colors and sizes.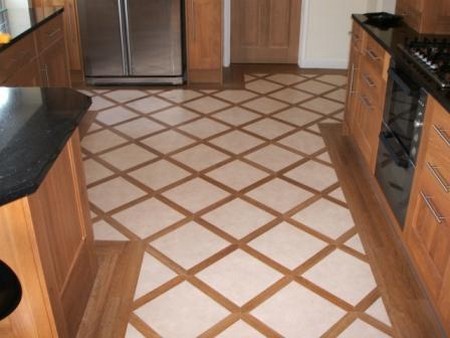 Minuses
As with all flooring, there are always some drawbacks. The surface of tile is cold to the touch. Also, tile can be slippery, which is dangerous in a kitchen (although some newer floor tiles have a less slippery surface). High-quality tiles are fairly costly.
Stone
Stone is by far the most prestigious type of flooring. A marble or granite floor speaks eloquently of the quality of the home.
On the other hand, stone is the most expensive flooring. Also, it's cold to the touch, and in some cases the surface can be slippery Nevertheless, if you want a kitchen floor that shouts elegance, go for stone.
Filed Under: Home & Maintenance
About the Author: Jason Prickett loves to write about home maintenance and stuff you can do yourself instead of hiring any professional. His step by step guides will assist you in completing your home maintenance tasks.
Comments (0)