By Jason Prickett on Jan 13, 2010 with Comments 0
---
The kitchen cabinets are the kitchen's glory—or its shame. Fine wooden cab­inets are indicative of an elegant home. Shoddy cabinets with doors that hang badly indicate a run-down house that needs work. Here's another area of the home where it will pay off to spend time and money on. Like countertops, remodeled cabinets should return your full investment and more when you resell. The first question is: Can the old cabinets be saved?
To determine this, you should first give the cabinets a good, fair appraisal. Here's a quick test:
Test to Determine Quality of Cabinets
1. Do the cabinets have an overall modern appearance?
2. Is the quality appropriate for your neighborhood?
3. Do you like their design?
4. Are the doors in good shape and well hung?
5. Are the drawers of good construction and well made?
6. Are the cabinets in good shape overall—not simply worn out?
If you can answer yes to all six questions, then by all means con­sider keeping your current cabinets and renovating them. Answer no to any question, and consider new cabinets.
How Can I Renovate Existing Cabinets?
There are at three acceptable ways to renovate kitchen cabinets.
1. Paint the cabinets and rehang the doors correctly. This usually involves at least lightly sanding the existing surface. New hard­ware (handles) should be put on at the time.
Use oil-base paints when repainting cabinets as Elite Finishing cabinet painting recommends. The oil base will blend with the stain (or paint) already on the cabinets. Water-base paints will be repelled and will eventually chip or peel.
2. Restain the cabinets. This involves sanding or stripping the exist­ing varnish or paint and then restaining. It should be done only if the cabinets are made of a good-quality hardwood. Use new hardware.
Beware of trying to use a lighter stain over an existing darker stain. The result will almost always be a combination of the two, no matter how stripped the wood appears to be. It's better to go darker over lighter.
3. Laminate the cabinets. This involves replacing the doors and then gluing a wood veneer onto the existing cabinet walls. New hardware should be installed.
What Will It Cost?
Typically the cost of painting or staining existing cabinets is well under $2000 for an average kitchen. This should include sanding applying a primer, and then adding two coats of a final paint or stain (with light sanding after each coat). Consider having the inside of the cabinets painted a matching color at this time.
Many people try to save money by redoing the cabinets themselves—after all, it's only "painting." But the strip-ping and sanding is tedious, difficult work and getting the paint on right can be tricky. Often it's much cheaper in the long run to pay the added cost of having a pro do it. You can find the best kitchen remodeling contractors here.
Laminating the cabinets involves getting special hardwood veneers as well as having new cabinet doors made to order. The cost for materials alone can run into the thousands. A typical kitchen could easily cost around $5000 or more for the whole job.
What If I Go with New Cabinets?
If you decide to order new cabinets from a commercial cabinet supply store, the sky's the limit. Your costs can range anywhere from a few thousand dollars to tens of thousands, depending on the quality of the cabinets. Figure an additional 15 to 20 percent to have them installed.
New cabinets are often made to order at a shop (sometimes across the country) and are delivered in sections to your kitchen by truck. Sometimes they are already stained or painted, although finish painting or staining may be done at the site. Even though they are made to order, typically you will choose from standard sizes. If you want truly custom-made cabinets, you will usually need to contact a local cabinet maker. There are even stainless steel outdoor kitchen cabinets available out there for your outdoor kitchen.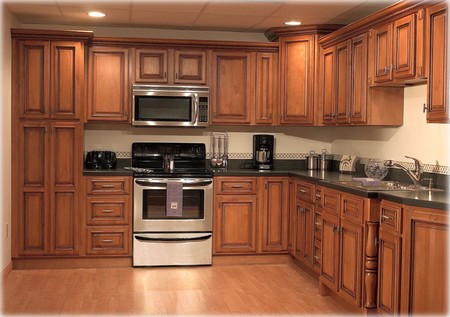 If you're handy, you can save money by installing the cabinets yourself. It's not hard and takes only one to two days for a typical kitchen. But it is heavy work, requiring lifting the wall cabinets into place and fin­ishing off those areas where the new cabinets do not overlap and extra strips of wood must be added.
When installing new cabinets yourself, the key is in buy­ing right. Measure carefully so you end up with the right type of cabinets and the correct sizes. Ready-made cabinets usually come in standard sizes so you can more easily place units next to each other. Be sure to abut the fronts tightly and screw them together. Any spaces or crooked alignment will show badly in the fin­ished product.
Filed Under: Home & Maintenance
About the Author: Jason Prickett loves to write about home maintenance and stuff you can do yourself instead of hiring any professional. His step by step guides will assist you in completing your home maintenance tasks.
Comments (0)