By Jason Prickett on Oct 16, 2010 with Comments 0
---
Thanks to exciting new paint products, it is now possible to repair and to paint old floor tiles. A new multi-colored floor can add a vibrant touch to your kitchen with these wide range of laminate floors.
According to Flooring Specialists you do not have to live with patterns and colors (and cracks!) you do not care for, or go to the trouble and expense of pulling up floor tiles and laying new ones. Tough and durable painted finishes can be achieved quite easily within a weekend.
There are two ways to approach the renovation of tiles. The most simple method is to use a special proprietary tile paint. The tiles should be sanded first with a 240 grit paper to provide a key for the paint to stick to. Floor tiles lose their glaze through wear over time anyway, so the areas that might need more sanding are the protected areas, such as under a table or behind the door. Special tile paint is more expensive than most paint, but it is easy to use since it requires no primer and final varnish or sealant. Are your in need of flooring supplier on the Central Coast in Australia's Central Coast? You can count on Derry's Flooring Warehouse for all your flooring needs.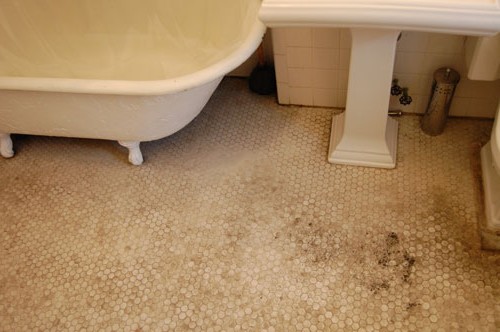 Another method is first to prime the tiles with a proprietary tile primer. It is then possible to use emulsion paint on top of this before sealing with a tough floor coating. Eggshell and gloss paints could also be used, but it is easier to use and apply a second coat of quick-drying non-toxic emulsion. Paint adhesion is very important here, so do check the compatibility of each product you choose.
I have given these tiles a colorful haphazard pattern, painting each tile a different color The possibilities are endless, however – you could use these methods to paint any pattern you choose.
TILE PAINT METHOD
Fill and repair cracks with tough floor tile filler and, when dry, sand this down to a smooth, even finish.
If you are not going to paint over the whole surface, but paint each tile-separately, use a grout cleaner. Scrub it on with a brush, then wipe it off.
Sand the floor with a 240 grit paper. On old tiles, the glaze will have worn away naturally. The areas to rub more are those that have not had much wear.
Experiment with colors, mixing paints of the same kind in small quantities.
Apply special tile paint with a normal household brush.
Use a thin flat brush for the corners and edges of the tiles. Apply a second coat of paint the following day if required and leave to dry for as long as you can before walking on it.
HOUSEHOLD PAINT METHOD
Day One
Fill and repair cracks with tough floor tile filler and, when dry, sand this down to a smooth, even finish. This method requires tile primer and as more coats of paint are required 1 painted over the whole floor, including the grout. Allow this to dry fully overnight.
Day Two
Apply the paint of your choice. Allow to dry before applying a second coat. The following evening seal the paint with two coats of tough floor coating.
Decorating ideas: You can create all kinds of patterns with the paint you apply – you could make up a small stencil, or paint on a small motif by hand.
Filed Under: Home & Maintenance
About the Author: Jason Prickett loves to write about home maintenance and stuff you can do yourself instead of hiring any professional. His step by step guides will assist you in completing your home maintenance tasks.
Comments (0)