By Jason Prickett on Oct 16, 2010 with Comments 0
---
With the new acrylic floor paints you can give full rein to your imagination. The pattern used here is based on the floor tile design of a medieval church.
For years floor paint was only available in two or three colors. Oil based, it was very smelly and took a long time to dry properly. Quick-drying acrylic floor paint has now changed all that. It really is quick drying, it does not smell and is now available in a much more exciting range of colors.
I have used this paint on primed hardboard here and created a formal pattern with just three colors. You could make this project as simple or as complex as you choose. Color combinations and patterns are endless and there are many source books available to help you.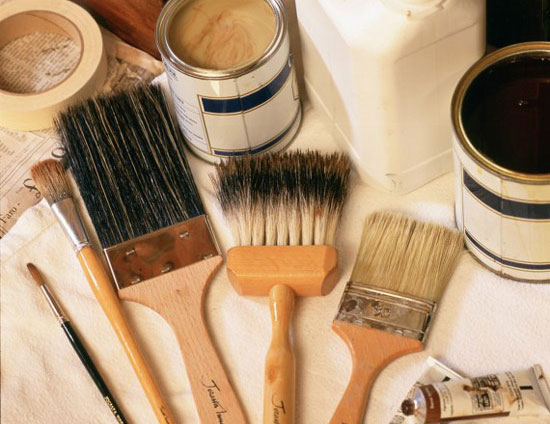 As this paint is especially formulated for floors, no sealant or varnish is needed. If you should ever wish to change your design or color scheme, just lightly sand down the surface and simply repaint over the top of it.
The night before you start this project, or even earlier, paint a basecoat of grey acrylic floor paint on the floor.
Laying hardboard: Hardboard is laid by butting up large sheets together and pinning them down, smooth side up, with staples. Start laying the boards from the centre of the room, and cut the outer ones to size. Hire a staple gun and mallet to secure the boards to the floor. You can hire electric staple guns, but they are harder to control. The mallet method is best and not as difficult as it looks.
Once new hardboard has been laid, fill any holes, then apply primer paint and, when dry, paint on your base color.
Thin medium-density fibreboard (MDF) is also a suitable material; this is more expensive than hardboard, but is sturdier. Both materials have an equally good smooth surface.
Day One
Prepare the floor with a basecoat of grey acrylic floor paint and let this dry thoroughly overnight.
Draw out your plan on graph paper first to see how the pattern will fit into the shape of your room. Mark the centre of the room and start the pattern from this point.
Measure out equal squares over the whole of the floor.
Use a long straightedge to mark these squares out with chalk.
Cut out a square template to mark out the smaller squares within some of the larger ones.
So as not to get confused later, mark which sections are to be painted red, and which green.
Paint in the red sections with a household paintbrush. Start in the middle of the floor and work outwards.
Day Two
Once the red paint is dry, paint in the green sections.
Mark out the triangle shapes – green ones around the small red squares, red ones around the small green squares.
Paint in the inside of the triangle outlines.
Once all the paint is dry, wipe off the chalk marks with a damp cloth. Acrylic floor paint is hard-wearing and does not require varnishing.
Where to start painting: Remember to start painting at the centre or back of the room – do not paint yourself into a corner!
Filed Under: Home & Maintenance
About the Author: Jason Prickett loves to write about home maintenance and stuff you can do yourself instead of hiring any professional. His step by step guides will assist you in completing your home maintenance tasks.
Comments (0)