By Andrew Reinert on May 04, 2010 with Comments 0
---
Acne and pimples are bad enough to look at on your skin, but it's much worse when they leave scars that are hard to remove or disguise. This oftentimes causes problems in deeper levels. It can affect your self-esteem and confidence, especially as it relates to the way you deal with people. It can often take a long time before these scars become completely unnoticeable. If you leave them untreated they can darken and become even more visible, so it is important to treat it potential scars soon as possible with proper solutions. Preventing acne from showing up is the best way to prevent acne scars, but there are several treatments you can employ to help minimize and completely remove those stubborn acne marks.
Procedure:
Wash your face with glycolic cleanser, which can exfoliate and remove dead skin cells, at least one time every day. By using it for several months, acne scars and marks will begin to disappear as a new layer of skin surfaces, and little by little your dark spots will fade as new layers of skin emerge.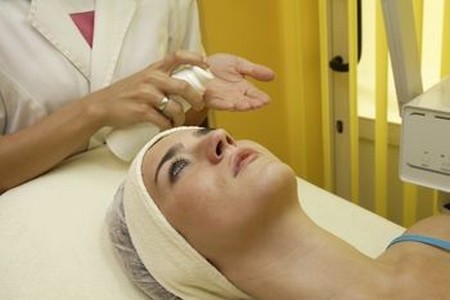 Apply a moisturizer that has macadamia or avocado oil as an ingredient daily. A moisturizer will help your skin heal faster while making it smooth and soft. Continued used of moisturizer will result in your skin's overall look improving and help increase the amount of collagen and elastin. Over time it will also help diminish the severity of the marks acne causes on your skin and will supply your skin with enough moisture to keep it smooth and soft.
Don't skip sunblock. Make sure you apply sunblock to any area of your skin that will be exposed in the sun when you're out and about. Sun exposure can actually worsen the appearance of dark spots, making them more prominent and visible. Sunblock will provide your skin with protection and prevent marks and acne scars from worsening.
For scars that are very dark and stubborn and that simple remedies don't help fade, it is best to go to a certified dermatologist. A dermatologist can prescribe you hydroquinone lotion, which is a skin bleaching solution that targets dark spots on your skin for elimination. It has the ability to lighten dark marks on your skin until they fade completely. You should not, however, use this cream unless under the care of a certified medical dermatology expert
If these options do not work for you, you can resort to a laser procedure that clears away acne scars. This treatment can be pricey but is nonetheless effective and will last for a very long time. Consult with a dermatology clinic to inquire about this procedure, which will clear out stubborn marks that are very hard to remove. You may need to go to the dermatologist to arrange several sessions to gain the full effectiveness of this procedure.
Filed Under: Health & Personal Care
About the Author: Andrew Reinert is a health care professional who loves to share different tips on health and personal care. He is a regular contributor to MegaHowTo and lives in Canada.
Comments (0)