By Andrew Reinert on May 04, 2010 with Comments 0
---
The most common skin problem many teens and adults face today is acne. Many people think eating greasy foods and having clogged pores or dirty skin causes acne. However, acne is mainly caused by oil glands underneath the skin that are triggered during the adolescent years. When oil together with bacteria and dirt are trapped in your pores, it becomes a pimple. These are easy and practical tips that can help you reduce and prevent outbreaks of acne.
Procedure:
Make sure your face is clean. Employ a cleanser that is gentle to clean your face. Some cleansers as well as over-washing can irritate your skin. Be sure to wash your face after you exercise because sweat causes bacteria that can cause pimples.
Keep your hands away from your face. Your hands carry a lot of bacteria from what you do every day, so be sure to keep them off your face.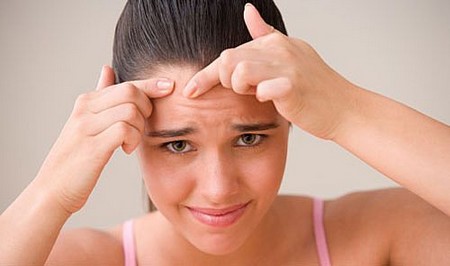 Make it a point to clean your face before lying down to sleep each night. Be sure to remove the dirt or make up on your face after a day's work. Also, make sure the make up you use is oil-free to avoid further complications.
Your hair can cause acne, especially when it touches your face because your hair contains trapped dirt. Therefore, it is better to keep it from brushing against your face. Use mild shampoos because some hair products contain harsh chemicals that can cause breakouts when they come in contact with your face.
Clean your telephone every day with antiseptic or alcohol. When you rub your telephone near your face, bacteria can transfer to your face and cause pimples.
Make sure your bed sheets, linens and towels are always clean and washed. Bacteria on these materials can cause acne when they brush against your face.
Maintain a healthy diet and eat healthy foods. Eat fruits and vegetables and make sure to consume six to eight glasses of water daily, as these flush out your system. There are studies that prove fiber-rich and low-sugar foods have reduced the appearance of acne.
Adhere to a regular fitness routine. Having a fit and healthy lifestyle includes exercise. When you exercise your oxygen levels and blood circulation improve. Again, don't forget to wash your face after you are done exercising.
Make sure you get enough sleep and rest. Lack of sleep can cause stress and trigger hormones that cause acne. Sleep for at least eight hours every day to help improve your skin condition.
Treat yourself to skin treatments every month at a Skin Clinic Bristol.
Use products that aim to prevent acne from showing up. Since there is growing demand for acne solution products, many manufacturers supply them. There are many products from which to choose, including popular brands like Noxema, Clearasil, Clinique and Neutrogena or those that provide stronger treatments like Accutane and Retin-A.
Filed Under: Health & Personal Care
About the Author: Andrew Reinert is a health care professional who loves to share different tips on health and personal care. He is a regular contributor to MegaHowTo and lives in Canada.
Comments (0)