By Arthur Kunkle on Feb 23, 2010 with Comments 0
---
There are some options for providing shade and shelter to the well-designed balcony area. They may be a summer-only arrangement (but you will need somewhere to store them when not in use) or a more permanent structure which should be designed to stand up to all weathers, including high winds and the weight of snow and rain.
Awnings
An awning installation can be adapted to all styles and schemes and is reasonably simple to erect on an overhead frame. For a bright continental effect, there are many ready-made and gaily striped manual retracting awnings available, as well as those in floral and geometric patterned fabrics. Whichever style you choose, the material must be tough and specially recommended for use in strong sunshine, so the colours do not fade and the fabric does not rot easily. The designs could be matched to other furnishings on the balcony, such as the cushions, seat covers and table cloths, or the fabric used to recover deckchairs or make side screens. Retractable awnings can change the look and layout of your home.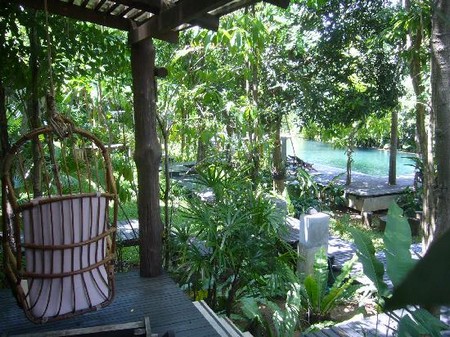 You can buy an automatic awning which is ideal for small balconies. It fixes on to the main wall of the building and can be drawn out or folded away as required. You can even buy an electrically operated option on some models which is controlled from inside the home. The more decorative awnings might include a scalloped edge or decorative trimming such as tassels or binding. For a more subtle effect, guaranteed to blend in with the surrounding plants and timber features, you can use bamboo or rush matting, stretched unbleached sailcloth or sacking, all of which can be designed to roll back over an overhead framework.
Umbrellas and parasols
One of the simplest and most convenient forms of shading and shelter, of course, is the good old sun umbrella or parasol. This is easily stored away when not in use yet can be erected instantly whenever it is needed. On the balcony it is important to make sure any umbrellas are stable, either by slotting them into a mounting hole in the centre of a garden table or providing a similar facility in your decking or paving. If this is not practical, you will have to consider a hollow plastic base, usually weighted with water or sand. There is a wide range of designs in umbrellas to match the upholstery on many patio furniture ranges, from stripes and florals to plain calico or canvas.
Filed Under: General How To's
About the Author: Greenery always attracts Arthur Kunkle. He has a big garden where he plants many fruits and vegetables. His passion for gardening motivates him to write and share different tips on gardening.
Comments (0)