By Roberta Southworth on May 14, 2010 with Comments 0
---
Getting married in one the most important landmarks in a person's life. It's every bride's special day and it is an occasion that many seek to not ever forget. To help you remember your special day and all the little details, it's a good idea to preserve mementos like your dress, tuxedo, and even the flowers for weddings that you ordered. The best option to preserve your bouquet is to seek the help of a professional to have it done. There is also a do it yourself method that can be done at home. Whatever you choose, you'll be reminded of the beauty of your wedding day every time you look at your wedding bouquet.
Things You'll Need:
Yellow Pages
Wedding Flower Bouquets
Wedding Programs
Small Coolers
Plastic
Ice
Internet Access
Wedding Invitations
Sand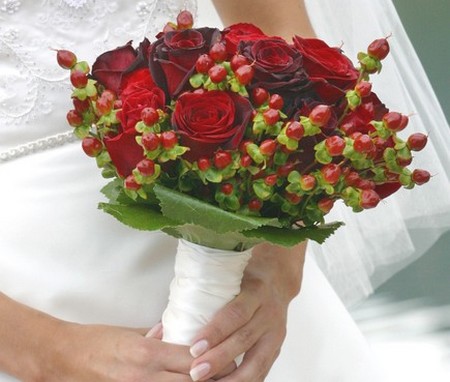 Step 1
Decide which method of preservation you will use. You can opt for professional help or you can do home preservation of your bouquet. You should decide which method is right for you before your wedding date. This is because preserving the bridal bouquet should start 1-4 days after your wedding occurs.
Step 2
Be mindful of what it takes to preserve your bridal bouquet at home. This process can take anywhere from a few days up to a few weeks. If you will still be busy adjusting to your new life, make sure you can still monitor and preserve your flowers immeditately.
Step 3
Free dry your flower arrangement. Having your flowers freeze dried will ensure that they always look real. This is because in the freeze dry process each part is freeze dried separately, and then put back together to form the original arrangement. This process takes 3 weeks to a month to complete.
Step 4
Have your bridal arrangement professionally pressed. The bouquet is taken apart and each flower is then pressed, rearranged and framed. The flowers are flattened and preserved. This option takes 8-10 weeks to do.
Step 5
Price the cost of preserving your bouquet. The average cost is $100. This price is cubject to change depending on how big our bouquet is and any special things you may request.. These may include frames and enclosures to suite your tastes. Also, the shipping cost should be added into the price if the company is not local.
Step 7
If you choose to preserve your flowers at home you should use things that draw out moisture. You can select to do this with sand, silica or other material. You should use caution when using these materials. Make sure they are not in the reach of children or animals after you start the process. These materials may be harmful if ingested.
Filed Under: Family & Relationships
About the Author: Roberta Southworth is a psychiatrist by profession. She likes to help out people by writing informative tips on how people can to solve their family and relationship issues. She is currently staying in Ireland. She has 5 years of couple counseling experience.
Comments (0)