By Andrew Reinert on May 14, 2010 with Comments 0
---
Things You'll Need:
white eyeshadow
silver eyeshadow
black eyeshadow
mascara
eyeliner
Step 1
Before any eyeshadow is applied to either eye, the skim must be washed, clean and dry. Then, we must prime the area we are going to apply the make up to. Invest in a good primer like Urban Decay Primer Potion or Too Faced Shadow Insurance. These primers help to enhance the qualities of the eyeshadow. The true colors of each shadow is brought to life with a good primer.  Using a primer is essential to achieving the perfect smokey eye.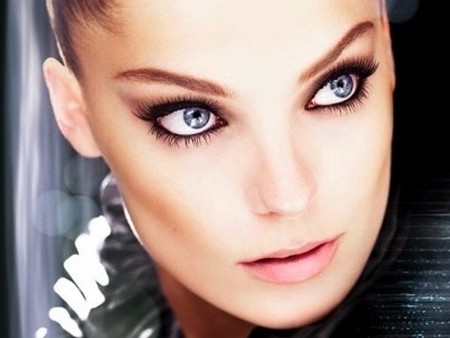 Step 2
Curl the eyelashes. Then, apply some white eyeshadow to your brow bone. Make sure that you also cover the inner portion of your eye. This will highlight the eye itself and enhance the eyebrows as well.
Step 3
Apply you favorite shade of silver eyeshadow across the lid of your eye. Make sure the silver shadow is applied up to the crease of the eye. Blend the silver eyeshadow up into the white eyeshadow at the inner portion of the eye.
Step 4
You want to choose a matte black shadow for this part if the process. Apply matte black eyeshadow to the crease of the eyelid. Then, apply the matte black eyeshadow to the corner of the eye making a 'v' shape extending from the eye. You want to take your time and blend the shadows together on the eye to eliminate any harsh lines that form from the color contrasting. This step may take several minutes. Don't rush this part.
Step 5
Take your favorite eyeliner and add a line to both the top and bottom eyelids. The liner may be any color. I recommend a black waterproof liquid liner. These liners tend to hold up to natural oil from skin and perspiration.
Step 6
Add your favorite eyelash defining mascara.  I recommend black waterproof mascara Apply the mascara to the top lash first. Separate each lash and start from the base to the end. Start by placing the mascara on the upper part of the lases first. Coat evenly. Then run the wand underneath the last in an upward motion. It may help to gently move the wand from left to right as you coating. This helps the wand manage the lashes better.
Step 7
Then add mascara to the bottom lash. When applying mascara to the bottom lash hold the wand vertically to ensure that the lashes are coated and separated.
Step 8
Add a nude lip color. Since your eyes will be really dramatic you should balance out the entire look with a neutral or nude lip color.
Filed Under: Health & Personal Care
About the Author: Andrew Reinert is a health care professional who loves to share different tips on health and personal care. He is a regular contributor to MegaHowTo and lives in Canada.
Comments (0)