By Leona Kesler on Sep 25, 2020 with Comments 0
---
Southerners love okra. Okra is a favorite in southern cuisine. They love okra so much in the south that they of a way to make pickles out of it instead of cucumbers.
Okra is a vegetable that grows in the heat of summer. It has a distinct flavor all its own. It can be boiled, fried, steamed and yes-even pickled. Here is how you can make your very own pickled okra. You can make them while the okra is fresh in the summer for when the colder months come and the okra is not so readily available in markets.
You'll need a safe place to store the jars of okra once they are packed.
This recipe will make about 4-5 pints of yummy pickled okra.
Read on for more information.
Items You Will Need to Pickle Okra:
A Canner
Some Canning Jars
Rings for Lids
Vinegar
Garlic
Dill Seed
Distilled Water
Salt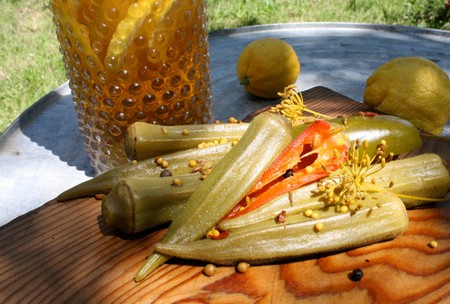 Step 1
Go to the grocery, garden or local farmer's market and get approximately 3 ½ pounds of okra. Wash the okra well before starting.
Step 2
Wash out the glass jars. Leave them inside the hot dishwasher or very hot water until the very moment you need to fill them.
Step 3
Place the okra in the jar. Line the inside with the okra and pack in as many as will fit. All the veggies need to be straight.
Step 4
Peel a whole clove of garlic. You can slice it or leave it whole. Place the garlic clove all the jars.
Step 5
Bring a quart of water to boil over medium heat in a large pot. Add 1/3 cup of regular salt, a hot pepper, a pint of vinegar and 2 teaspoons of dill seeds. Allow this combination to boil. You are going to use it when it is boiling hot so please use extreme caution when handling.
Step 6
Use oven mitts to grab the hot pot. Pour the boiling combination into the glass jars packed with okra. Please be sure to fill it to ¼ inch from the brim of the glass jar.
Step 7
Put the lids and rings on the glass jars while the liquid is still hot. Tighten the rings around the jars to ensure they won't leak. As the liquid begins to cool down, it will create the vacuum effect that will help preserve the contents of the jar.
Step 8
Process the jars in some more boiling water for an additional ten minutes.
Step 9
Take the jars from the canner. Allow them to cool off completely. Check to make sure the seal on the jars are air tight. Store them in a safe, cool place.
Filed Under: Food & Cooking
About the Author: Leona Kesler is a head-chef at a very popular food restaurant in New York. Also she is a blogger who shares her experiences, tips, and other informative details about food and cooking. Her recipes are featured on many magazines.
Comments (0)