By Roberta Southworth on Apr 12, 2010 with Comments 0
---
Making a success of big events like these depends on two things: one, making sure that there's plenty of fizz; and two, that it's drinkable.
This might sound like an exercise in the blindingly obvious, but it's amazing how many big events run out of reception sparkly after one glass or expect their guests to toast the happy couple with something resembling fizzy floor-cleaner.
For the pre-dinner reception sparkler you'll need something dry. If you go for champagne, look for brut (dry) or 'extra dry' (just off-dry, confusingly) on the label. For after-dinner toasts, find something sweeter (demi-sec).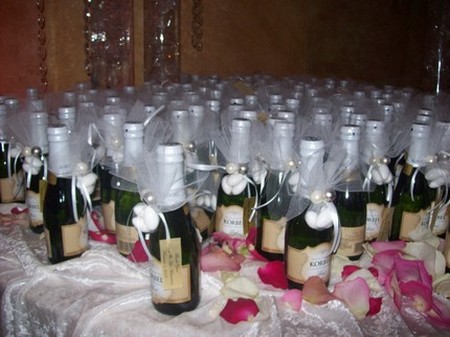 But unless you have a huge budget, I'd skip champagne. Yes, at the top level it's gorgeous, but at the lower end it's rotten value for money. Instead, try a premium cava (a good one should still be less than half the price of champers), a fizz from the New World (New Zealand is a particularly good source) or a bubbly from France that's not from the hallowed Champagne region. Cremants from Burgundy, Alsace and the Loire can be really good value for money.
A bit of market research is essential before buying big volumes, so make sure you try out all your prospective candidates. Tasting a dozen bottles with friends will be a fun night as well as worthwhile, believe me!
When it comes to the meal wines, follow the same rules as for a Wednesday night and look for something that's soft, fun and palate-friendly at a decent price. Chile, South Africa, south of France, southern Italy and Argentina should all be on your radar.
Incidentally, if you're buying half a dozen cases of wine from one place, you should be able to negotiate yourself a pretty good discount — don't be afraid to try!
As for amounts, I'd allow half a bottle of sparkly per person and about the same of wine for the meal. Thus, for ninety guests, I'd buy four wine cases of sparkling wine, maybe three cases of red wine and two of white.
Remember, no guest ever complained that there was too much wine, but they'll always grumble if there's too little.
D-I-Y
Supplying your own wine allows you to serve decent wine at a good price. Most venues mark up a wine by around 300 per cent, but many only charge a £5 corkage fee for every bottle of yours that they have to open.
So if you pay £4-5 a bottle, which becomes £10 with corkage, you'll have a decent wine that's likely to be the same price or cheaper than the bog-standard (probably undrinkable) house wine.
Corkage on sparkling wines is usually higher (typically twice the price), but you still save pots of cash. Do the maths. You know it makes sense.
Filed Under: Family & Relationships
About the Author: Roberta Southworth is a psychiatrist by profession. She likes to help out people by writing informative tips on how people can to solve their family and relationship issues. She is currently staying in Ireland. She has 5 years of couple counseling experience.
Comments (0)