By Leona Kesler on Apr 12, 2010 with Comments 0
---
Trading up is a particularly good idea with your Sunday lunch, because good wine shows particularly well when it's not fighting with dozens of huge flavours in the food. And, since typical Sunday lunches are roasts, then by their very nature — solid food that's easy to prepare and simply served — they are fabulous for showing off a better than average bottle of wine. If you're going to buy one bottle of decent wine a week, make it for Sunday lunch.
Chicken and pork
Both of these are at home with either whites or light reds. For characterful whites, it's hard to beat Burgundy with its fascinating Chardonnays. The trouble is that the best wines (though gorgeous) are expensive, while the cheaper versions are rarely worth the money. So if in doubt, spend a bit extra!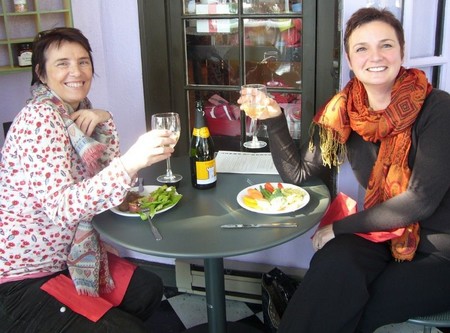 Australia and New Zealand both do some flavoursome (and increasingly elegant) Chardonnays, while Aussie Semillon is a good mouth-filler. If you're having white meat with creamy sauce, a bottle of Riesling is a great and characterful match. Australia's are the best of the New World, but my preference would be for a dry wine from Alsace if you can find it.
If you fancy a red wine with your white meat, Pinot Noirs like red Burgundy (same rules on price apply as for white Burgundies) are best. Otherwise, go for a light-to mid-weight Italian red like Valpolicella or Chianti.
Lamb
A juicy Spanish red from Rioja or Ribera is a classic combination, but the meat also goes well with red Bordeaux and Chianti. Again, paying a bit extra makes a big difference to the quality, so if you go Spanish look for reserva (or crianza) on the label to prove its had a bit of love and attention.
Beef
Here you need the heavyweights of the wine world: big Cabernet Sauvignons and Merlots or Syrah/ Shirazes. A decent bottle of Bordeaux has the most class, but if you want plenty of sweet blackcurrant fruit, Cabs from Chile, Argentina, South Africa, Australia, New Zealand and California are all worth a look as well.
For Syrah/Shiraz, Australia and the Rhone are classic areas. The former tend to be bigger and richer, and work well if you're having intensely flavoured game such as venison.
Stews and casseroles
Look for cheerfully chunky red wines from the Douro in Portugal or the Cotes du Rhone or Chateauneuf-du-Pape in France. Aussie Grenache. Spanish Garnacha and Italian Primitivo are decent bets, too.
Filed Under: Food & Cooking
About the Author: Leona Kesler is a head-chef at a very popular food restaurant in New York. Also she is a blogger who shares her experiences, tips, and other informative details about food and cooking. Her recipes are featured on many magazines.
Comments (0)