By Leona Kesler on Apr 12, 2010 with Comments 0
---
Christmas is about more than just one meal. It's about the whole day, and, if there's one time of the year when you can justifiably try lots of different types of drinks, this is it!
Breakfast
If you really want to start the day with a bang. Buck's Fizz or champagne is a traditional (if decadent) start. For Buck's Fizz (champagne and orange juice), I'd just use any cheap sparkling wine. If you want your fizz neat, go for a non-vintage brut (dry) champagne or a New World sparkler (New Zealand's are good).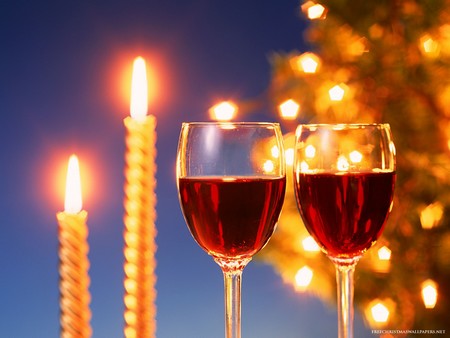 Mid-morning
A glass of medium-dry sherry (amontillado works well) goes well with the mince pies and is a refined way of invoking the Christmas spirit.
The dinner
Here's the good news. At a busy time of year, you now have one less thing to worry about, because Christmas dinner is a tolerant occasion when you can serve either red or white wine and be fine.
More good news: the world's favourite white, Chardonnay, is a genuinely good match. Just steer clear of aromatic whites like Sauvignon Blanc, or light whites like Muscadet, because they're not up to the job at hand. In fact, although turkey is a white meat, because of all the 'trimmings' that accompany it (stuffing, chipolatas, cranberry sauce and so on), red wines can be just as good a match.
Merlot (which tends to be fairly soft) is probably the best match — and generally a better bet than its Bordeaux partner Cabernet Sauvignon, but Pinot Noir and even Syrah/Shiraz can work perfectly well.
Perhaps the best advice I can give is that, if you only push the boat out once a year, you do so on this occasion. Instead of your usual cheap bottle of Merlot, try a Bordeaux from St-Emilion that's a bit older, at twice the price. Instead of Chardonnay, maybe try a white Burgundy. Wines with a bit more age and class really come alive with a neutral dish like turkey, and you will definitely notice the few notes extra that you've spent.
Pudding
Christmas pud is difficult to match wine with, mainly because of the brandy butter. The good news is, however, that fortified wines like port should be fine.
Cheese
If you've put together an immense cheeseboard with many different types of cheese, accept that no one wine will go with all of them. Cheeses like Cheddar, for instance, are fine with Chardonnay, goat's cheese needs Sauvignon Blanc, and strongly flavoured cheeses need fortified wines such as port and sherry.
Tawny port, with its gentle nutty flavours, is a decent across-the-board recommendation, vintage port (not as expensive as you might think) is a classic match with Stilton, while late-bottled vintage (LBV) port is a decent poor man's alternative and dangerously gluggable. Oloroso sherry, too, is a great match and well priced.
Fortifieds have the added advantage, if you serve your cheese before your dessert, of being able to carry on with the plum pudding.
Filed Under: Food & Cooking
About the Author: Leona Kesler is a head-chef at a very popular food restaurant in New York. Also she is a blogger who shares her experiences, tips, and other informative details about food and cooking. Her recipes are featured on many magazines.
Comments (0)