By Andrew Reinert on May 03, 2010 with Comments 0
---
One of the most common problems of women regarding beauty is dark circles under the eyes. Genetics, lack of sleep and an unhealthy diet can contribute to this problem. One of the best and easy fixes you can employ is to use a concealer to hide those dark under-eye circles. But be aware that to get the most natural effect, you must choose the right shade and kind of concealer that matches y our skin.
Types. Concealers are available in many types and shades. The first step is to figure out what type of skin you have. If you have dry skin, the right type of concealer to use is a cream-based concealer. This product comes in a tube or pot. If your skin is oily, the best type to use is a stick or liquid concealer. If, however, you have combination skin, you may need to try different kinds of formulas. This will depend on the coverage you want to achieve. Once you have decided what kind of formula to use, choose a concealer that is a little lighter than the foundation you are to use.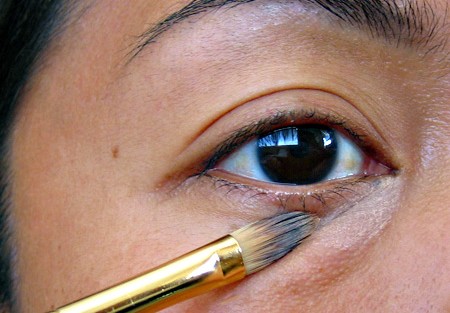 Coverage. Some concealers are light or heavy in coverage. It will all depend on what kind of coverage you want. The key to finding the perfect concealer is finding one that looks natural on you. You can use your fingers, a brush or a sponge in applying concealer; just make sure you blend it well since you don't want streaks to appear on your face.
Shades. Concealers come in many shades to make sure that everyone is catered to for her specific needs. The perfect concealer you use should harmonize with your skin tone and appear as part of your skin. Whether you have dark or light skin, your concealer should be a shade lighter.
Tips and Warning
Concealers come in different price ranges. Higher-quality concealers can be pricey, but they are sure to provide a better quality of coverage.
Test a small patch of concealer on your neck. This is to make sure your skin will not experience any allergic reactions.
Consult a beauty representative. He will know which type and shade will best suit your skin type and color.
If you have dark under-eye circles, avoid dark eye shadow cosmetics. This will only draw more attention to your eyes, thus making your eyes appear tired and all the more dark. Opt for shades that are more natural. Avoid black eyeliners and heavy mascara as well.
For the best staying power, after applying your concealer you should dust loose powder on your skin with a fluffy brush. This will help settle the concealer.
Filed Under: Health & Personal Care
About the Author: Andrew Reinert is a health care professional who loves to share different tips on health and personal care. He is a regular contributor to MegaHowTo and lives in Canada.
Comments (0)