By Fred Goodson on Mar 19, 2010 with Comments 0
---
The history of eventing
The popular sport of eventing has its roots in the education of military horses in the army and was originally designed as a test to train the ultimate cavalry horse. The calmness and precision necessary for a dressage phase was intended to emulate the horse on the parade ground, while the steeplechase and demands of the cross­country course mirrored the courage required by a charger on the battlefield. The final phase of show-jumping proved that, after such a feat of endurance, the horse was still able to demonstrate its health, soundness and agility by completing a series of up to 20 show-jumping fences without showing any ill-effects.
The three-day event
Eventing is popular all over the world but nowhere more so than in Great Britain, where the world-famous Badminton Three-Day Event is considered to be one of the most demanding courses ever constructed. The first day, normally a Friday, is dedicated to dressage, while the popular steeplechase and cross-country phase is always held on a Saturday. Spectators can walk around the course and watch horses and riders up close as they compete. Sunday, the final day, consists of a thorough veterinary inspection in the morning. For this, the event horses are turned out immaculately. Plaited up and with hooves oiled, they are presented for inspection, where they are led by their riders at walk and trot past a veterinarian, who judges the horses for condition and soundness. This article is very important-if any horse is not considered to be fit enough, it will not be able to compete in the final stage of the event, the show-jumping.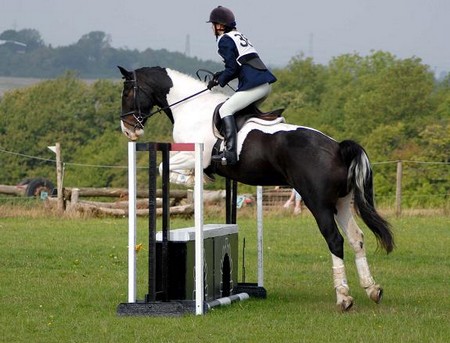 Throughout the competition, penalties are awarded for inaccuracies in the dressage, for refusals or time faults in the cross-country (from going too fast or too slow) and for fences knocked down or refused in the show-jumping. The overall winner is the horse and rider with the fewest penalties after the show-jumping phase. Because three-day eventing is so demanding, it is normally only attempted by professional riders. Smaller one-day events, where all the disciplines are completed at a much smaller scale during one day, are much more popular among amateur riders.
Hunter trials
Hunter trials are much more low-key and enjoyable events for the pleasure horse owner. Also known as steeple-chase, they consist of a series of fences that are jumped in a prearranged order in the open countryside. Horses and ponies of all abilities can enter-classes are available at different height levels, starting from novices with fences at 1 ft, 9 in (52 cm), up to advanced riders jumping 3 ft, 9 in (112 cm). The course covers an enormous variety of fences, including water jumps, brush fences and log piles. Riders are encouraged to arrive early and will initially walk the course on foot so they can familiarize themselves with the layout and approach to each fence.
Hunter trials are enormous fun and very popular with children as well as adults. Competitors wear brightly colored sweatshirts and matching silks on their hats and often combine their own chosen colors with that of their pony's numnah and protective boots. Safety back protectors are essential, as are gloves and a medical armband, which is worn by every competitor in case of an accident.
Filed Under: Arts & Entertainment
About the Author: Fred Goodson has a passion for pets and animals. He has 4 dogs and is planning to have another one. He is also a blogger who writes about pets and animals. Currently, he is living in New Jersey.
Comments (0)