By Fred Goodson on Mar 19, 2010 with Comments 0
---
Le Trec
Thirty years ago, France had a highly successful equestrian tourist business. Officials decided to adopt a more professional approach toward training and rating the many guides who worked within the industry. A system was designed to test the horse and rider on the broad range of activities they would encounter during an average trail ride—the result of which was Le Trec.
It soon became a very popular competition, with riders ranging from young children to adults. The concept has now gone worldwide and is an exciting new type of competition for North American riders.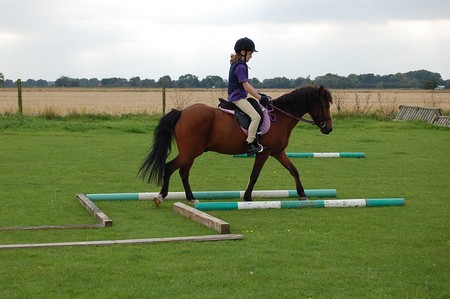 Le Trec is made up of three phases:
Phase one is to prove that the horse and rider can follow a predesignated route from reading a map and that they are capable of riding out all day over varied terrain.
Phase two is to negotiate natural obstacles on the ride, such as riding under low branches, jumping natural obstacles and crossing over water, and to be able to dismount and leave the horse to stand alone for a period of time.
Phase three concentrates on the welfare of the horse, making sure that the rider keeps the horse's best interests in mind throughout the ride and maintains respect for the countryside.
There are checkpoints at intervals during the ride where the progress of horse and rider are monitored carefully. Points are deducted or awarded for success in each phase and the winner is the horse and rider with the maximum number of points at the end of the day.
The overall aim of Le Trec is to enjoy riding horses in the open countryside. It is a real social sport as the horse and rider need a backup team to meet them at intervals during the day, which makes Le Trec an ideal sport for the whole family.
Endurance
Endurance riding is a much more intense sport than Le Trec and is not for the faint­hearted. Before the invention of modern-day transport, endurance or long-distance riding was done out of necessity rather than for fun. It may therefore seem ironic that, in the early 21st century, endurance riding has become the fastest-growing equestrian sport in the world.
Small rides begin at about 15 miles (25 km) and increase up to the ultimate distance of 100 miles (160 km) in a day-so the endurance provides something for everyone, whatever their aspirations. Similar to Le Trec, it is a very social sport with backup teams needed throughout the distance to provide food and water for both horse and rider.
Tactics on the longer rides are important as difficult terrain will lead to slower going at times, so riders need to concentrate on making up time in other ways. Much focus is given to training and keeping the horse in the best possible condition, so it is normal for horse and rider to develop a very strong bond with each other. Welfare is very important with all horses being fully vetted before, during and after the race to ensure that they are capable of the distance. Despite all its demands, endurance riding is renowned for being very friendly, as riders are competing against their own personal-best times rather than each other.
Filed Under: Pets & Animals
About the Author: Fred Goodson has a passion for pets and animals. He has 4 dogs and is planning to have another one. He is also a blogger who writes about pets and animals. Currently, he is living in New Jersey.
Comments (0)